Oh, hi there little bench, and welcome to the foyer.

Remember when you were just a simple white headboard, neglected at a yard sale with a $3 sticker slapped on your face?
Look at you now! You've lost
weight
length.
No, you're not finished yet…
I know you want to be shinier. There is no amount of glossiness that will satisfy you.
You might want an upholstered bench cushion, possibly in a graphic black and white stripe?
You might even change colors, who knows! The possibilities are endless. Except turning you back into a headboard. Those days are over.
Let's take a look at this little buddy's journey from unappreciated yard sale castoff to foyer bench that, I think we can all agree is "whelming" at LEAST.
First, we took it apart by removing all the staples holding it together on the back, and surveyed the situation. While wearing our favorite light-up Buzz Lightyear shoes, apparently.


We started by shrinking down that facing board with the little swoopy sides, and re-cutting the swoop with a jigsaw.


Then we cut down the cane insert and shrunk down the bamboo bar across the top by cutting it into the cylindrical portions and the little bamboo portions, then glued and nailed them onto the swoopy part.


Andy cut the legs, seat and side pieces and attached them with his kreg jig, then filled the old holes and caulked it.


Next up, we primed it and used our paint sprayer to cover it in an oil-based enamel for max shine. (Although, like I said, I kinda want to step up the shine a bit more. We may add a high-gloss poly on top at some point.) We used the standard Rustoleum black enamel – it's already premixed and sitting on the shelf waiting for you.
The color decision was a tough one, especially with all the AWESOME suggestions you all made in the last post. I would've loved to go navy, except there's no navy in the rug at all and I didn't like the way it fought with the black. And for those of you who voted pink? Just you wait… just you wait. There may be some pink in that foyer very soon.


My husband wins the Most Serious Veins Award. Don't even try to compete.
Then we were done! Except for all the reasons we're not done. There's the possibility of additional glossiness, and I think an upholstered bench may or may not be in its future. PLUS, I'm still looking for some more fab pillows to go on top.
I think it needs pink and gold. It craves glamour.

I stuck a woven basket underneath the bench and now we have a place to store our shoes that's NOT right in the middle of the kitchen! Total life upgrade.
I'm also thinking the frame above it needs some black and/or gold, so that's probably coming soon.
Here she is from the side, and you can see that I am having an impossible time deciding what fabric to use for the curtains in the office. It has to play well with the cowhide rug AND the foyer rug. I wonder if I should just go with a solid? Thoughts?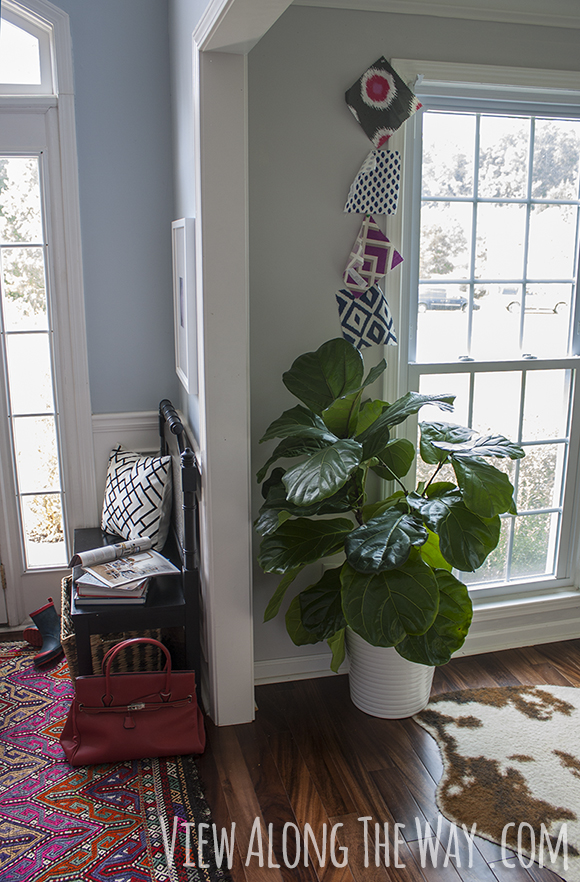 And that's all! Isn't Andy's Magical Headboard Shrinking Machine pretty impressive? I dig it. I like the bench too.
By the way, you can see more about the foyer project here, inspiration for this headboard project here, and the details on THAT RUG right here. 🙂

And if you liked this post, make sure you mosey over this way. (Click on the image to see the makeovers!)