Someday, when I'm a grown up, I'll meal plan. I'll clean as I go. I'll wake up before the kids. I'll stop eating when I'm full. I'll drop birthday cards in the mail so they arrive on the occasion. I'll decorate all-out for each season.
But today? I stay up too late and still kind of hope if I hide under the covers, the kids will go back to sleep in the morning. I clean my dessert plate and go back for seconds. I usually don't put the toilet paper roll back on the holder and I can't even explain why because this is not a hard task! What excuse have I?! And I'm a home blogger who barely decorated for fall.
Since I like to be way out of my league, I agreed to join in a fall home tour hosted by Kristen F. Davis Designs & the White Buffalo Styling Co. These girls are stylish, like extremely stylish. Every day a different blogger has shared some jaw-dropping fall decorations and I've been more than a smidge intimidated to follow that kind of talent. If you want to see some gorgeous fall decorations, you should just stop what you're reading and head over to those other blogs, linked at the bottom of this post.
Okay, you can finish reading here first.
I love you.
Fall is good in my house because it makes my very fall-inspired dining room look seasonably appropriate temporarily. Kinda like when you don't change your clocks for daylight savings time, so they're wrong for half the year, then magically they're right again. Same idea.

The fall leaf art lives there year-round, but I put a bunch of fall-ish stuff on the table to tease my toddler, who can't
quite
reach all those tempting breakables.
Last year I made an
easy thanksgiving banner
. It looked like this:
But I moved it to inside the dining room, over the windows, and I'm not kidding: I never took it down. All year. It's still there.
I'd like to say I left it there intentionally, motivated by a pure desire to practice thankfulness, but I just never got around to taking it down. I'm thankful for that, because I didn't have to rehang it this year. So I guess I am practicing thankfulness.
My favorite trick for transitioning the house to fall is to cozy up the textures. In the living room, I brought in some warmer textures. A little sheepskin on the ottoman never hurt anybody, and I added some new throw pillows in autumnal (love that word) colors.

The velvet pillow and sheepskin feel so fall to me! They make feel like proppin' up my feet by the fireplace with a mug of pumpkin chai spice tea, because that exists and it is in my pantry at this moment. (Let me tell you about this. It's in powder form from Trader Joe's. JUST ADD WATER and you have pumpkin chai spice tea, right there in your mug.
This is a thing in our world
that you can own and drink any time. Let's pause for a moment of thankfulness about
that
.)
My living room used to have simple white sheers underneath my DIY striped curtains: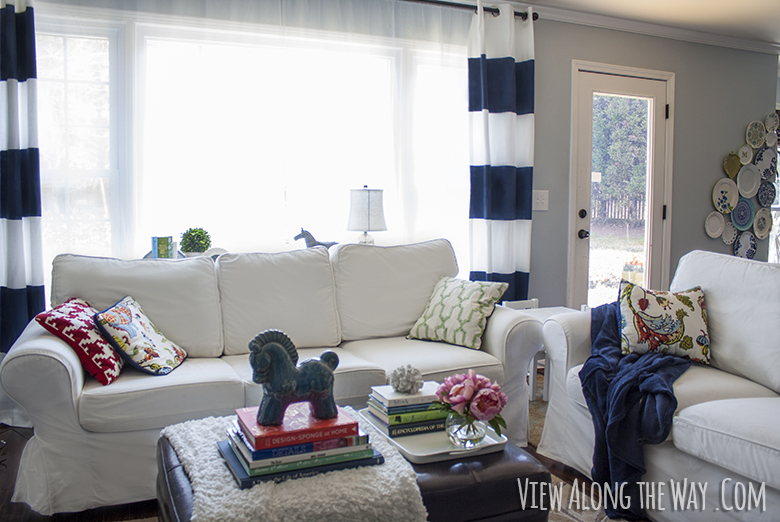 But I switched them out for these Premium Bamboo Shades from my sponsor Payless Decor. (It's the Java Vintage color.) I think it's a nice added texture to make things feel cozier. I'm actually stunned at how different they made my living room look! They're the same ones I have in my breakfast nook, and I'm a big fan. (Update: Payless Decor is offering 10 percent off to VATW readers with the code VAWTENBA13!)

Look how
my money tree
is
thriving
not dead yet! EXTREME FIST PUMP.
The only other thing I did to decorate for fall was my fall mantle and the watercolor pumpkins I showed you a couple weeks ago.

And I bought two pre-potted mums and set them on
our deck outside
.
Brilliant move, I know. Try to catch your breath. It's never occurred to anyone to:
1. Buy mums and
2. Put them somewhere.
That's just the kind of lifechanging inspiration you can expect here at View Along the Way.
Oh, I forgot to tell you about the velvet pillow in my living room. World Market has these guys for $9.99 each. I think I got a couple of mine for $5 on sale back in the spring. They come in all different colors, and hypothetically, you can just buy a bunch and throw them all over the place so your husband is forced to sigh heavily and move them whenever he wants to sit on the couch.


Hypothetically.
Throw pillows are Andy's ARCH NEMESIS!
All I'm saying is: my house will be a beautiful beacon of autumn, someday when I'm a grown-up. I'll rise before the sun, my hair beautifully tousled, do yoga, eat a sensible breakfast and transform my home into the very essence of fall, all by 7 a.m.
I turn 30 next week so I'm expecting things to change then, just naturally. Does that sound right? When do you start being a grown up?
P.S.: For truly, truly inspiring fall decorating ideas, make sure you swing by the other blogs participating in this Modern and Fresh Fall Home Tour, going on through the end of October! Here's the schedule:
October 1 – KFD Designs and White Buffalo Styling Co ● 2 – Sarah M. Dorsey Designs ● 3 – Retro Ranch Reno ● 4 – Brittany Makes ● 5 – Scout & Nimble ● 6 – Cuckoo 4 Design ● 7 – Sweet Chaos Home ● 8 – The Chronicles of Home ● 9 – Dwellings by Devore ● 10 – Our Fifth House ● 11 – The Hunted Interior ● 12 – This That & Life ● 13 – Décor and the Dog ● 14 – Primitive & Proper ● 15 – From the Right Bank ● 16 – Shannon Berrey Designs ● 17 – Gorgeous Shiny Things ● 18 – Bliss at Home ● 19 – Rain on a Tin Roof ● 20 – Dear Emmeline ● October 21 – (ME!)
And here's who's coming up the rest of the month:
October 22 – Lacquer and Linen ● 23 – A Creative Day Blog ● 24 – Royal Marigold ● 25 – Lori May Interiors ● 26 – Dimples and Tangles ● 27 – Desert Domicile ● 28 – Design Indulgence ● 29 – Lakeitha Duncan Lifestyle Blog ● 30 – A Home Full of Color and The Curtis Casa ● 31 – Number Fifty-three and Brave New Home