Hey there. Is the world slowly coming into focus as you emerge from a candy coma? In this house, we have a strict candy taxation policy in which 100% of chocolate candy retrieved from trick-or-treating must be turned in to parents as a tax.
It's a hard life, but somebody's gotta eat the Butterfinger minis.
We put our children in costumes, and there's just now way I can let this post happen without showing them to you. Here's the best of many terrible photos we got of Tigger and Piglet together:


Piglet had a hood thing with ears and the whole shebang, but it was a Situation. She's not onboard with the whole beauty-is-pain thing yet.


I'm excited to tell you we're finally wrapping up a project that's been YEARS in the making. (It's not that it's that good, it's that we're that slow.)
We have this fireplace wall in our living room.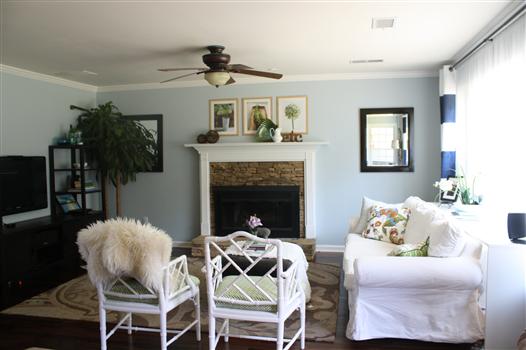 (That's an old pic but you get the idea.)
As soon as we moved in, I threw up some mirrors on either side of the fireplace as "placeholders" until I could figure out something better. YEARS LATER…
We decided to make some giant picture frames that take up the whole wall and hang them on either side of the fireplace. Kinda like this…


…except hopefully it'll look less crazy-fun-house than my quick photoshop mockup. Hopefully.
We're looking at six oversized frames on either side, taking up that whole wall. The idea was conceived because I want to paint my whole downstairs white but the husband thinks that's "unreasonable" because it's such a huge job and I change my mind all the time anyway and the blue is not offensive. Obviously, he's being outrageous. But this will at least make it feel a little more like the room is white. Plus I think this room needs something over-scaled to give it personality.
What's been taking so long is:
1. The making of the frames
2. The procrastination of not knowing what to put in them.
I'm planning on hanging a combination of pictures of my offspring and artsy things, so I've been on the hunt for some inexpensive art. (I plan on changing out the art pretty regularly, so I don't want to spend a ton on what I frame.)
I found some pretty sweet ways to get inexpensive art to share with you! I'll probably do a combination of these ideas.

1. Artsy maps of meaningful places

I found this awesome website where you can type in any location in the world and it spits out pretty watercolor maps of that spot.

I'm planning to frame a couple maps of places that mean something to us – where we honeymooned, where we married, that kinda sappy junk. If you're feeling ambitious, you can play with the file in photoshop or some other editing tool and change the colors.
(To save the image from that site, enter your location, then scroll down under the image and click on "watercolor," then "image" on the top right of the screen.)

2. Digital sand art

Warning: major time-suck ahead! Go to thisissand.com and play around with the colors to make your own digital sand art, or browse the gallery for other people's creations.

source
I think this is ridiculously awesome and fun, but then I was the kid who geeked out over real-life sand art and spent hours on end weaving potholders on those little looms with the cotton hoops. (OMG. I have not thought about that in YEARS. Do you guys remember those? Major nostalgia moment!)
They still make them! (affiliate link. ha!)
Did other kids do that or was I a super-nerd? You can tell me the truth.
3. Wallpaper samples from Spoonflower

There are some gorgeous wallpapers and fabrics on spoonflower.com. You can order a sizeable wallpaper swatch (12″ by 24″) for $5 and pop it in a frame. Insta-art! Here are the ones I ordered for the new frame wall:

From left to right: Arrow Herringbone, Beach house ikat, Beach arrow, Feathers scattered, Multicolor confetti
I think whichever ones I don't use in the living room will find a spot in my house somewhere.
The foyer
is callin' their name!
4. Turn your own photos super-artsy

I love this! Check it out. Alayna at Prairie Hive turned her own vacation photo into this cool stained-glass pixelated effect.

Head over to
Prairie Hive for the tutorial
. (Isn't that cool? Looks like expensive art!)
5. Print free botanical art
High fives to the Missouri Botanical Garden Library for Botanicus, which is a free online encyclopedia of pretty botanical literature. You can find and print botanical art right from your computer. (I liked this post by Honey and Fitz on how to download them.)

6. Make your own art

Make sure you check out all the cool ideas in this post – 36 easy, beautiful DIY art ideas.
7. The old family photos fall-back
The morning of our Better Homes & Gardens photo shoot back in May, the stylist asked me for a family photo so she could include it in a frame she had brought for one of the shelves. (See it there on the very top left?)


Andy and I were all, "Oh sure! One sec!" And then we SCRAMBLED. Yall, we had NOTHING printed out and available for her. I never realized how digital we are with our photos until that moment. I don't even remember where we came up with the little picture of Weston that's in that little frame.
My point is — I'm excited to finally bring out the kiddo pics! I already ordered some prints of our favorites throughout the years. (That's also a map of Anguilla, where we honeymooned, from that maps site.)

* * *
We have the frames finally finished, the mats and acrylic bought and waiting to be assembled, so I'm hoping I can show it all to you very, very soon… If I can peel myself away from Weston's Halloween candy first. (It's not looking good.)

Do you have a family candy tax? Any favorite online art sources to share?