I used to think wedding rings came with power.
Not power to defeat Mordor and conquer Middle Earth (wow – buckle your seatbelts! It only took us one sentence to head straight to nerddom on warp speed!) — but power to suddenly know grown-up things, like how to make a roast, or when the fiscal year begins. Or what that even means.
Turns out I did NOT wake up on day 2 of my marriage with magically-acquired knowledge. Maybe there was something wrong with my ring?


I thought I would be the kind of person who would not go wacky when I had kids. I would keep it together. My kids would know their state capitols before they emerged from the womb. Their first words would be complete Bible verses. They would probably not even have snot.
And I would NOT be the kind of person who created shrines to my children by displaying pictures of them on every surface of my house – we would have REAL art.
Well. Throw that theory out the window too. In the last post I told you we had a plan to replace the temporary stand-in mirrors surrounding the fireplace with DIY oversized frames, photos, and some inexpensive art I found online.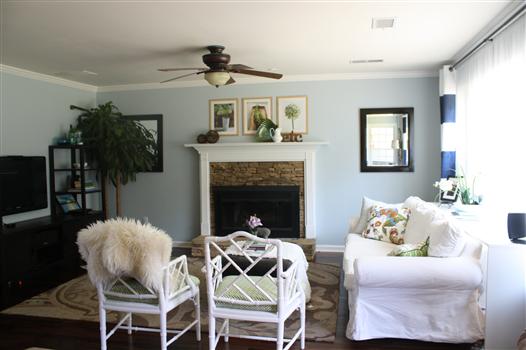 Check it!

There it is: evidence of my complete surrender to my mama-inclinations. There are baby pictures. There are wedding pictures. I tried to keep it from being too shrine-y by adding in
watercolor maps
and
framed wallpaper samples
(like we talked about
in this post
), but friends, there's no denying it: I've gone off the deep end. And I love it.
Also, we won't go into great detail about it, but one or two of my expectations about how MY children would be different? May have been a smidge off. (I did have a dream when I was pregnant with Mila that I was able to take her out of my body for short periods of time wherein I taught her to read, then re-inserted her until it was time for her to be born. Thankfully there was no actual repeated baby-removal-and-replacement.)
HOW did you get me talking about THAT?! I meant to be telling you how amazing Andy is for BUILDING those frames to the exact specifications I requested.


I was going to tell you how we laid them out on the floor and rearranged them over and over until they felt balanced on either side. How we tried to keep the "busy" pictures opposite each other, and light and dark pictures opposite each other so if you squint, both sides of the fireplace feel as "equal" as possible.


…and I was going to tell you how we used our laser level and my FAVORITE trick for hanging picture frames exactly where you want them – (check out the details here!) – to get these on the wall in less than one naptime. (That paint stirrer trick might be my favorite little hack we've ever done.)

But I was NOT going to mention how we started making these frames in the year 2010. (Yes, literally.) I was not going to tell you that we just never got around to ordering acrylic or deciding what to put in the frames. I was not going to emphasize how long it takes us to complete projects around here.
And I was not going to talk about snot. Or Mordor.
Things got out of hand quickly today. I think it was that extra shot of espresso in my peppermint mocha.
Do you think another before-and-after look at the wall will bring this post back around? Let's try it.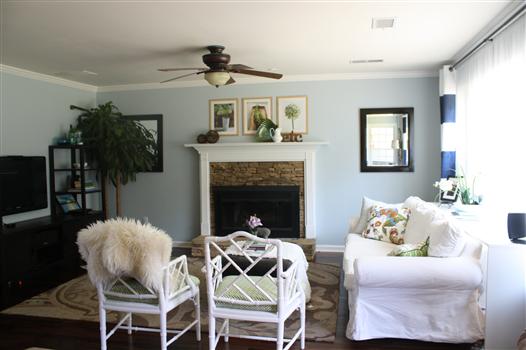 What's your take on displaying family photos? Did your wedding ring work like it was supposed to?