We're trying to get this closet project knocked out, but progress has been slowed by Snowmageddon 2014 in Atlanta.


People have stormed the stores; our supplies of bread and milk are gone; hope is dwindling. At least three inches have fallen already today.
I know what you're thinking, and the answer is YES.


Despite the devastation, we will rebuild.
Though we have been struck with a blizzard of end-times proportions, yet we will rise like a phoenix from the ashes. These three inches will not kill our spirit and our community! We are the South.
Anyway, since we can't use the tools outside and do more buildy things, I'm trying to get some other design decisions made, so I thought we could have a nice little chat about pretties!
You might remember the back wall of the closet will be mostly empty, except maybe a mirror (thanks for your suggestions in the last post!) or maybe a rail of some kind for belt or scarf storage. That wall will be the showstopper, the focus, the shazam of the closet.


It needs to be good. And girly. Because where else in your house can you get away with a large-scale floral wallpaper like THIS?!

Amrapali Peony Wallpaper
That wallpaper makes me want to punch something because I cannot even process how good it is. The color is so rich. The pattern is KILLER. The price is
out of the question
.
But that's what I'm talkin' about when I tell you this thing is going to be uber-fem. Might as well hang a "no boys allowed" sign on the door.
Sorry. I just got distracted a little bit staring at that wallpaper. I want to do a whole room in it, with lots of whites, some kind of royal blue geometric fabric and little hints of lime green. It would probably kill me from the delight of it all.
Anyway, back to something within the realm of my budgetary possibilities. Here are a few wallpaper patterns I've fallen in love with…
This is actually a big ol' mural. Check out how incredible in looks in this photo.

Waverly Lightfoot Mural
Because my closet needs a bird.

Nina Campbell Paradiso
Soft and pretty:

Anthropologie Watercolor Peony Wallpaper
Ultimately, I fell in love with that last one, the Watercolor Peony Wallpaper from Anthropologie. Look how pretty it looks installed. Then, even more ultimately, I looked at the price. It's $148 for a roll. Ouch. That wall space is pretty tiny, so I could get away with only one roll, but it's still a pretty hefty price for what it is.
So I started considering cheaper alternatives. Here are a few wallpapers I found with a similar feeling:

Eijffinger Wallpaper Flamenco
Nina Campbell Fairfield
Neither of those was quite right, so then I started looking into fabrics. You can turn fabric into wallpaper with a little starch a la Michelle's tutorial, so I knew if I could find the perfect fabric, I'd be in business. This was the best fabric option I found to duplicate the feel of the Watercolor Peony Wallpaper:

Waverly April in Paris Sugarplum
It was okay but not quite right either.
So thennnnn….
I thought about stenciling. Omigosh. I can't believe I just allowed those words to escape from my poorly-manicured fingertips. After I stenciled the laundry room wall…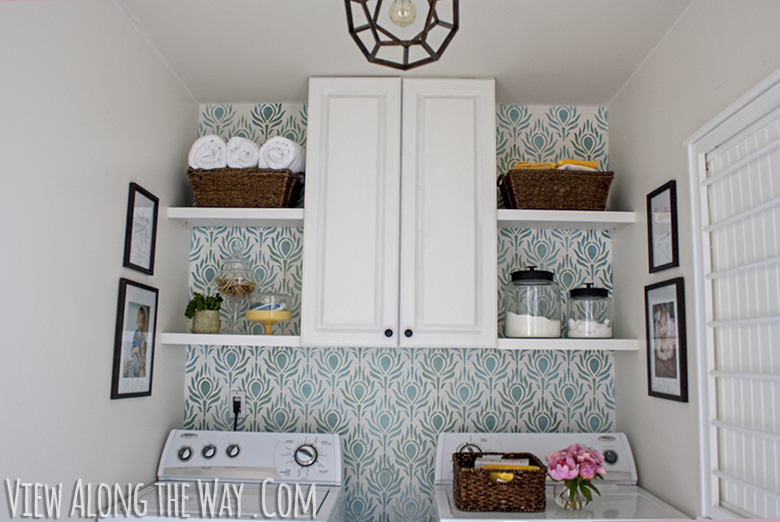 …I compared it to childbirth and swore a stenciled wall would never come out of my ladyparts happen in this house again.
But here I am, a year removed from the trauma and a year deep in the joy of having my stenciled wall-baby, and finding myself reconsidering it again. I found these guys:

Peony Stencil from DIYStencils on Etsy
Japanese Peony Allover Stencil from Cutting Edge
…and thought maybe I could find some iridescent paints and sort of copy the feel of the Anthro wallpaper myself?
I don't know. I don't love any of those options as much as I love the wallpaper itself.
So that's where I'm at. And since you guys basically completely rocked my face off with your helpfulness in the last post, I'm asking your opinions again! Which would you pick? What's your fave? Should I go the DIY route or get a little splurgy and just get the real deal?