At the precise moment invisible flu germs were weaseling their way into Andy's body, I decided to abandon my slothful ways and finally start exercising again. As a result, today we are both lying around, helpless, unable to move our appendages.
So not much is happening on the closet front. Don't be mad, though. (If anyone should be mad, it's my kids, whose childhoods are flying by while their parents moan and cry from their respective couches. Today's survival will come via Sesame Street and leftover macaroni and cheese, knights on white horses to save the day.)
But this is the perfect excuse to talk more about Decorating 101! Remember this series? You've committed all my posts to memory as instructed, yes?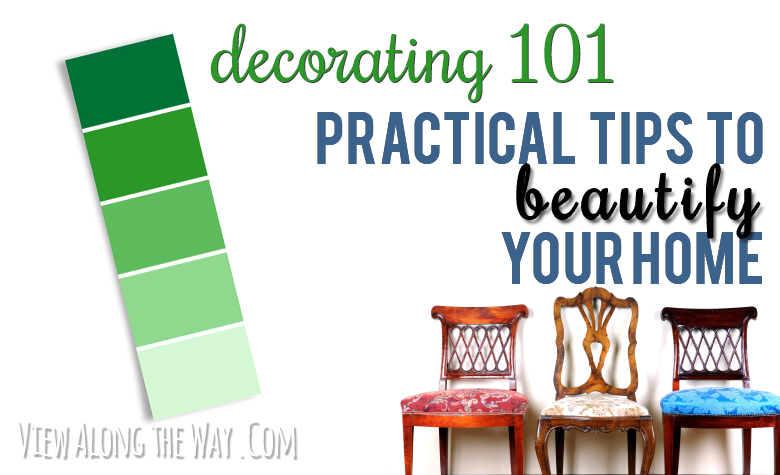 In the last
Decorating 101
post, we talked about
the biggest decorating mistake:
choosing paint colors first.
When you're starting with a blank slate room and don't know which direction to turn, paint seems like the obvious first choice, but it is a deceitful temptress who wants to lead you astray and you must resist its siren song!
I always kind of wished there was a formula for decorating a room, you know? A quick little process you can walk through to figure out what fabrics or colors would work together. Wouldn't that be magical? GUESS WHAT. THAT IS HAPPENING. TODAY. IN THIS MOMENT.
I'll walk you through my little cheater formula to getting started. This whole Decorating 101 series is about the (millions of) mistakes I've made while redoing our house, and what I'm learning along the way. I've been stuck and confused so many times, and this is what I do to help get myself unstuck.
This is not how everyone designs their rooms, and it's not "the right way" or "the only way," but it is "a way," and if you're finding yourself stuck and need some direction, this process will give you a plan that you can execute, and it will look pulled-together and thought-out.

Design by Rafael de Cárdenas via Elle Decor


Or your money back. Because this blog is free.

1. Get chummy with pinterest

Start a pinterest board for your room and pin pictures of other rooms that make your head explode because they're so good. ONLY stuff that you love is allowed on this board. If you want to crap your pants because it's so good, it has a place on this board. I would crap my pants about this room, for example.

Bek Designs
But if there's a room that I think is nice but my pants remain uncrapped, the photo does not get pinned.
Now use this post to analyze your boards and define your style. If you need a good place to start looking for pins, I have lots of room-specific boards on my pinterest account.
2. Set your "feel" words
How do you want this room to feel? Come up with a few buzzwords that describe how you want to feel when you walk in it. Sounds kinda touchy-feely and emotional, but it's actually super practical. For example, which of these appeal to you the most?
Moody and cozy vs bright and airy?
Soft and relaxing vs bold and vibrant?
Rustic? Plush? Refined? Relaxed? Glam? Soothing? Energizing?
Commit your chosen words to memory and let nothing pass the door of the room that doesn't contribute to that feeling.

skeppsoholmen
3. Set your color palette by selecting your "lead"
This is my favorite trick! This is what makes decorating much easier. You're going to search for one piece that will go in your new room to anchor the whole color scheme: one pillow, or fabric, or rug or art that will be the most colorful thing in the room.
We'll call this your "lead piece." ("Lead," like "leader," not "lead" like "lead poisoning." Oh, English language, you untamable beast.) DO NOTHING UNTIL YOU HAVE THIS PIECE. Then, all your color decisions become easier. THIS is why you didn't paint yet: you needed to select your lead piece first.
I'll give you some examples that have worked for me. In Mila's nursery, the first thing I selected was her curtain fabric.


This gets to be the lead piece because it has the most color of anything in her room.


Now, you make all your decisions from your "lead piece." The walls make the biggest statement in the room, so you'll select a paint color from your "lead piece" that supports the mood words you just selected. I wanted Mila's room to feel "fresh," "happy" and "bright," so I chose a slightly whiter version of the curtains' background color. If my describing words had been "bold" or "enveloping," I might have chosen a more saturated tone like the teal or gold or red. But in order to achieve my "fresh" and "bright" goal, the largest surface of the room (the walls) got a fresh and bright color, while the other colors appeared in small doses everywhere else.
4. Play with patterns
Is your lead piece a large-scale pattern, like the curtains for Mila's room? Then complement it with something in a smaller scale. Is it a swoopy, organic floral? Pair it with a buttoned-up geometric.
Here's an easy formula:
Something swoopy or organic + Something geometric + Smaller geometric or solid = complete room.

Caitlin Wilson


In Mila's room, I chose a bold stripe to go with the large-scale floral, and added a smaller-scale geometric fabric which wouldn't fight with the others.


Now that you have your fabrics/colors/patterns, it's just a matter of spreading them around the room, and you can handle that, yo. (And textures! We'll need to talk about that in another post, I think.)

That's the complete, cheater formula to decorating a whole room.
All rooms are not designed this way. BUT if you're stuck? If you don't know where to get started? This little formula will walk you straight from confusion to having a plan, and sometimes just getting things rolling makes all the difference.

Here are a few more examples
My living room design was stuck for YEARS because I had random colors – brown on the couch and blue on the walls – and nothing to pull it all together.


Things got MUCH easier when I settled on a "lead fabric" that gave me direction for everything else. My lead was this jacobean pattern, which has lots of different color options inside it.


It's a large-scale floral-type print, so I paired it with a geometric in a complementary color on the pillows, and did a chunky stripe on the curtains, and finally I could breathe because I felt like I had a direction.


When you're browsing pinterest for rooms you love, start looking for the "lead piece." You won't find it in every room, but it happens pretty often. Like in this room.

Devon Dyer Design via the Glitter Guide
You can kinda see the whole color scheme probably originated from that floral pillow. They paired it with a large-scale geometric (the rug) and coordinating solids (the couch and other pillow).
The art "leads" in this room. You can tell all the colors came from that art.

Lucas Allen Photography via Martha Stewart
This room started with the headboard fabric:

Southern Living Magazine
That killer kilim ottoman was the "lead piece" for this bedroom. Everything in the room relates to it.
Glenn Holley's home via Country Living
Kinda cool, right?
Just for fun, here are a handful of pretty fabrics that would make perfect "leads" to carry a whole room's color scheme:
Left to right, top to bottom: 1, 2, 3, 4, 5, 6, 7, 8, 9 (affiliate links)
What's your process for starting with an empty room? What's the hardest part for you?