Sometimes, when you're DIYing, things go wrong…
like you realize you mis-measured or that you married a difficult woman. This was one of those times, for Andy.
With the closet all painted and the popcorn ceilings removed…


it was time to make some drawers for my little jewelry station. This is the plan for that side of my closet:


Originally I was thinking we'd make shallow little drawers with just a lip on the front, kinda like this situation: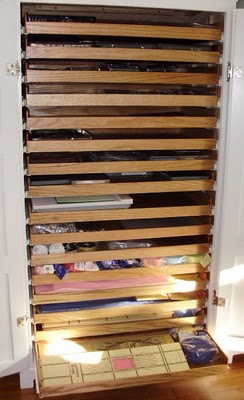 source
The first thing Andy did was create the drawer bottoms by cutting a piece of plywood to an inch smaller than the width of the shelves, and screwing the drawer slides onto the sides, like this:
Then he held it up to the hole in the shelves to get a feel for it, and that's when we realized we had a giant "oops" on our hands.
The drawers would only open about four inches, because the trim around the inside of the closet door was in the way.
These are the necessary first steps when things like this go wrong:
1. Cry a lot.
2. Wonder how you ever missed this.
3. Throw all the things.
4. Give up on life.
(The seriousness of the DIY error is in direct proportion to the amount of time you'll spend on the first four steps, or how heavy the things are that you'll need to throw.)
When you've completed steps 1-4, you can proceed to step five: brainstorm possible solutions. Once all our things were thrown and we'd wiped each other's tears, we came up with about four options:
1. Build out the shelving on that side of the wall to make the drawers smaller. (But it was already paaaainted, and you know I didn't want to have to redo that mess.)
2. Don't install the drawers. (But my whole heart was set on those drawers and you couldn't pry them from my cold, dead fingers.)
3. Remove the trim around the door. (But it would look pretty rough and not-cute.)
4. Somehow make the trim around the door narrower.
So that's what we did. First, Andy scored around that piece of trim with a razor blade, then slowly tried to pry it off the wall.

Then he ran it through his table saw to rip it down by about a quarter of an inch.


But would that be ENOUGH to fix the crisis?!! We could only wait and see! #Suspense
Meanwhile, he installed the drawer slides in the shelving unit. Obviously, you need to get the spacing on the drawer slides pretty perfect. Andy used a little trick to space them: he used the same 1×4 boards he was planning to use as the drawer fronts, plus the width of the ruler. This gave him a perfect ruler-width gap between each drawer when it was installed.


Winning.


He used his trusty Kreg jig to attach the drawer fronts to the bottoms, and we checked to see how they fit.


Even more winning.


We reinstalled that trim piece (though we still hadn't repainted it here)… Annnd look, they opened all the way! Winning-er-est.


Crisis averted!
But that's the point when crisis #2 presented itself: I accidentally changed my mind.
I started to realize the plan of flat drawers with just simple fronts was not a cool idea. The jewelry could just slip out of the back of the drawers or get caught on the drawer slides. The drawers needed sides, and a back. (Things that could've been brought to Andy's attention YESTERDAY!)
Fortunately my husband is a patient and long-suffering man. (Otherwise he wouldn't have married me in the first place.) And he didn't think it'd be too tough to add sides and a back.
He just cut some more 1×4 boards, ripped them down to 1×2.5 inches, drilled pocketholes in them, and connected them all together.


I painted them, and we installed them. Winners, Drawer Contest, DIY division.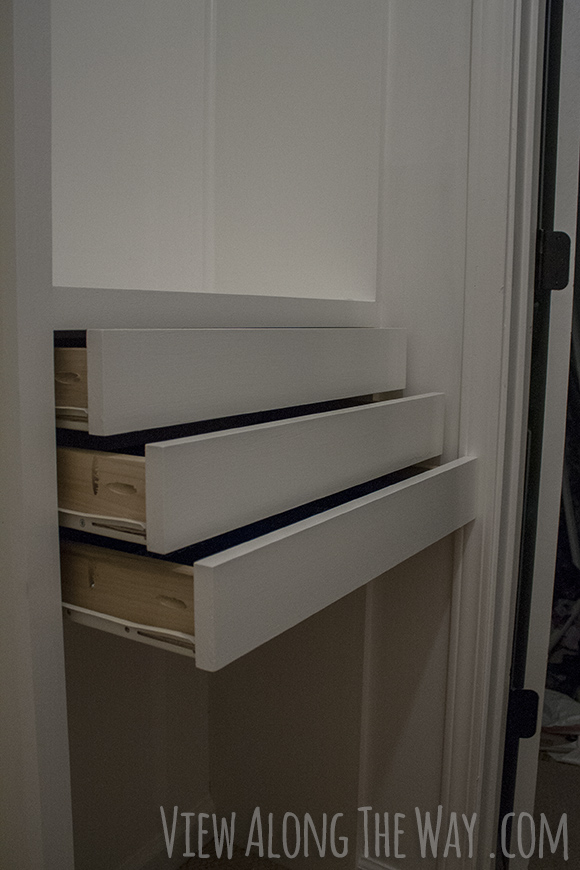 Before we did this project, I thought building drawers was this hugely intensive project, but it's really just building a box, and screwing some drawer slides onto the sides. Even without an Andy, I feel pretty confident I could build some.


They wouldn't be straight or cut at 90 degree angles, but I could build them.
These drawers need some fancying-up, and I have plans in place! More to come!

Have you ever built drawers or realized mid-project that you made some calculation errors? Did you throw heavy things or small things?