Guys, life has been SO HARD lately.
We built these jewelry drawers for my closet…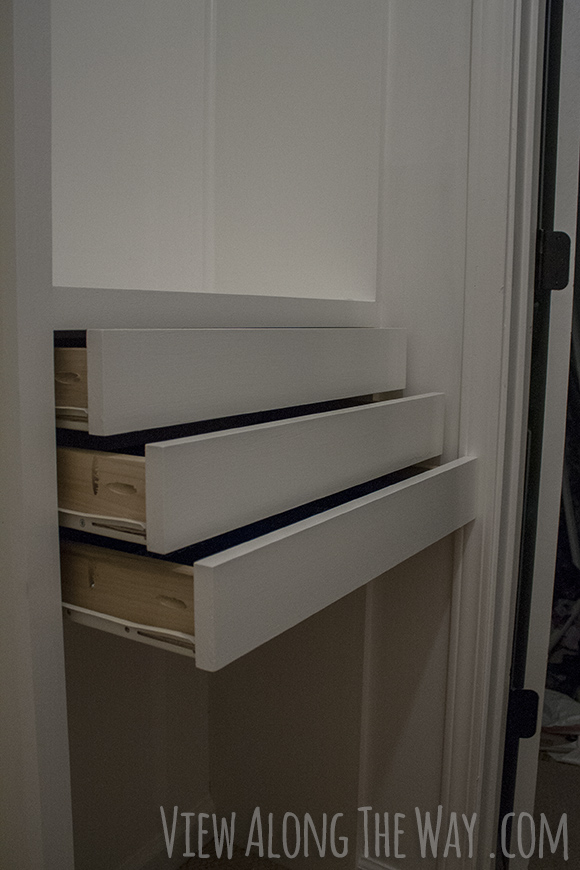 And then I embarrassed myself in the last post when I made the velvet lining for the insides.


But all this time, when I wanted to open the drawers, I had to reach under them because there were no knobs. It was exhausting, y'all. I'm drained. You just don't understand.
Several of you commented, worried about how I was opening the drawers. I thank you for your prayers during this difficult time. You'll be relieved to know we've remedied the problem.

These precious stone knobs are probably not for everyone – that's okay, I'm the only one who has to use them – but I wanted to do something different, and my only requirement was
sparkle
! I'm basically Liberace, at this point.
I was searching for cool knob ideas and found this one on Anthropologie:


I looked at the picture, thought "hmmm. That's kinda cool and interesting. Definitely sparkly!" Then I looked at the price.
$128.
Yes, that's ONE HUNDRED TWENTY EIGHT DOLLARS. Per knob.
(Plus tax.)
I know what you're wondering. From what I can tell, that does not include concierge service to install the knobs for you, and a handful of magic beans which grow money trees. That was my first thought, too.
After I had recovered from a massive dose of righteous indignation and confusion, I set off to make my own, and here's how that went down.

Materials Needed
Um, this tutorial is kind of stupidly easy. Pour out the two sides of the epoxy glue and mix. (I just mixed it right on the back of the glue packaging with another part of the package I'd torn off.)


Then put a healthy amount on the back of your pyrite chunk, stick the head of the screw in the glue and try to get the glue all around it. Then hold the screw in place until it sets, about five minutes.


…during which time, if you're like me, you will have trouble sitting still, get distracted, move the screw around and generally almost ruin the whole project with your impatience.
When it starts to set a bit, put it in your bowl of rice/beans/lentils – where you can't bother it anymore – to finish setting for 24 hours.


This tutorial could also be called "How to make knobs out of anything." Because you just glue a screw to something and it becomes a knob. Like magic!
Since we were working with brand new drawers, we had to find the center of the drawer, mark it off, and drill a hole for the screw.


(He loves this stuff. I'm just here to make him happy.)
With the hole drilled, you just screw in the knob from the front and use one of the provided nuts on the inside of the drawer to hold 'em on.


Here's how that mirror section is shaping up.

And this is where we're headed:
The knobs cost me about $25 for all three. They weren't the cheapest possible knobs, but I really like that they're natural, unique, sparkly (!) and NOT $128.
(One twenty EIGHT. !!)
I think a version of these with amethyst geodes could be pretty incredible. (Someone please try that and send pics!)

And I'm so happy to report that the drawers are much easier to open now too. Whew! I can breathe again.
What's the most ridiculous way you can think to spend $128?
P.S.: You can check out all my other knockoff projects here!