Y'ALL! I'm SO EXCITED about this day!! I have a new favorite place in the entire planet, and you are invited to come party with me there.
It's my newly updated closet, which suddenly feels like a sketchy and awkward place for a party, but it's nothing you and I can't overcome together. I promise not to be too shady and creepy while I gently fondle my new wallpaper and grope the chandelier.
I know, I know — shut up and show the pictures!
REWIND. This is what it looked like before, when I set aside my pride, put a picture of me in my pajama pants on the interwebs and JUNK GOT REAL.

These are the little plans you and I made together in this post:

And – EEEK! I can't even talk. Just LOOK.

*(Excitedly jumping up and down while you look)*
Did you SEE that?
It was real
.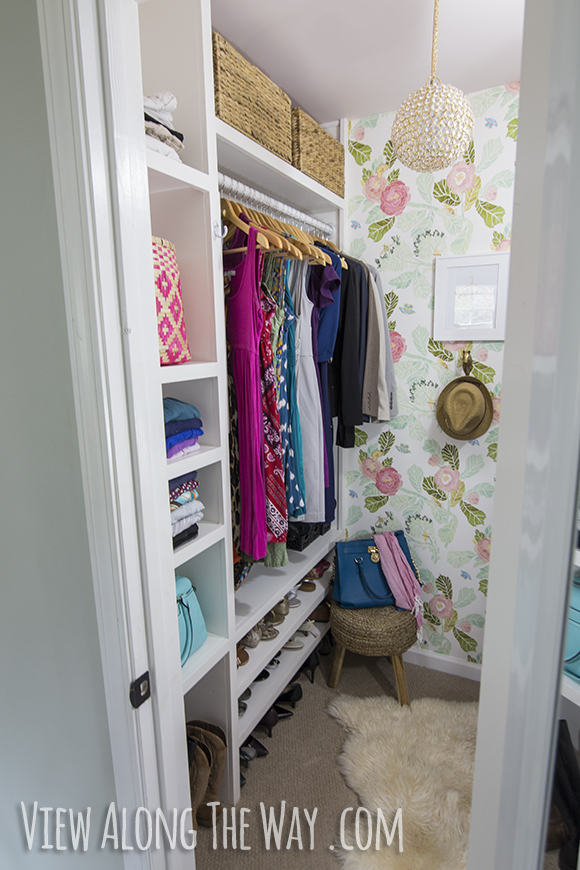 I can't even handle it, guys. I can't. I'm just in a giant pool of excitement-slash-exploding-brains from it all. There are no words for how happy and thankful I am for this teensy little slice of ultra-feminine heaven.
The original plan was to smash as much girliness into these few square feet as the universe could possibly handle, and to create organization and function where there was none. NONE. The disorganization wasn't my fault: it was the closet's fault.
Let's dig in and talk details, starting with the right side of the closet.

We
built the shelving (see how to do that here)
,
painted it all
Benjamin Moore Atrium White, and created this little vanity area for jewelry storage.
I searched high and low for a mirror to fit those exact dimensions, then – true story – I dug under my bed and found this mirror that I'd bought from a yard sale
years ago
for $1. One fat dollar. And it fit perfectly!
The clutches are kickin' back in a clear plastic letter sorter. Gets the job done!
Here's the jewelry situation. We screwed little hooks on each side of the mirror for necklaces.

And we
built the drawers below
(see
how we built them here
!),
lined them with velvet
(here's the post on
how to make velvet lining
for almost nothing!), and added the
DIY precious stone knobs
that are a knock-off of Anthropologie's $128 (per knob!) version.
Under the vanity area, we made a space for purses with some shower curtain hooks on a closet rod. (I don't love these particular shower curtain hooks; I'm on the hunt for some better ones.)
I switched out all my mismatched plastic hangers for wood, and it took my whole life up a notch or seven. Don't look now, but I might be a real grown-up now! (Wait, nope. Nevermind.)
I shopped all over for the best deal for wood hangers and the cheapest I could find was Ikea, where they're 50 cents each. I bought these at
Target
when they had a sale that knocked them down to just over 50 cents each. (Ikea is an hour away, so I was cool with paying a couple extra bucks for these.)
I limited myself to three boxes of 25 hangers, and it was a perfect excuse to purge my clothes down to what fits me right now today at the exact size I am. (No more storing the just-in-case-I-gain-weight clothes, or the maybe-someday-I'll-look-like-that-again clothes.)

You guys get to take credit for that wallpaper – it's
Anthropologie Watercolor Peony Wallpaper
which we got for
about half price
– because
you helped me decide
, and for that, I owe you an extra squishy hug!
…unless you're not a huggy person, in which case I will just nod in your general direction from a safe distance.
Here are all the details on the (shockingly easy) wallpaper installation!
I found this little vintage horse hook on ebay…


Isn't he such a charmer? So much personality in that little face. I have a crush on him.
I made this print (and you can get it free right here!). It's from a Bible verse which says "Clothe yourselves with compassion, kindness, humility, gentleness and patience… And over all these virtues put on love, which binds them all together in perfect unity."

I thought it was a fun reminder for the room where I clothe myself — to remember to "put on love" above all else. But you should probably still wear actual clothes too.
And OH! The CHANDY.

That's a DIY
.
After my
big fat chandelier fail
, I'm thrilled to have this happy ending! I basically die over any amount of SPARKLE, so this just tickles every little piece of the inside of my soul, and I will love it until the end of my days.
Click here for the tutorial
– it only took about an hour to make!
Now to the left side!

This is where most of the functional storage is happening.
I have all my out-of-season clothes in those baskets, so I can finally have
all
my clothes inside the closet, in one place. It's life-changing.
We made a little slide-out scarf organizer on one of the walls:

My scarves are so happy in their new home. Seriously, they will NOT SHUT UP ABOUT IT.
We did a
similar thing on the other side of the closet with belts
:
Read all about
how to make your own scarf or belt holder here
!
This is a terrible photo, but I can't figure out a good way to show you this. We actually installed some LED light strips in the shoe shelves, so whenever I turn on the chandelier, the shoe area lights up.


It was really cheap and easy! We used the same lighting we used for our DIY office bookshelves, and I'll have more details on this – you guessed it! – in an upcoming post soon.
All my old, grody flip flops I've had since college — (Ugh! Why do I still have these? Why do I still wear these?! Why did I just CONFESS that I still wear them?!!) — are hanging out in these little folder box things I got from the Target dollar spot. (Is that a folder box? I don't even know.)

I put lots of little hooks everywhere because, well, obviously, right? Who needs reasons for this?

I've had the closet complete for less than one day now, and I can already tell my world has been rocked all over the place. It is SO FUN to get dressed in this little room!
If I ever go missing for several hours at a time, I'm probably just sprawled out on the floor of my closet eating chocolate-covered strawberries, sighing happily and composing poems to it, which I then recite from under a giant pile of scarves and ten-year-old flip flops.
Let's talk dollas, baby. Rough cost estimates:
Wood for shelving (2 sheets of MDF): $60
Poplar shelf fronts (7 8-foot pieces): $35
Shoe Molding (trim around the inside of shelves): $20
Screws and hardware: $5
Closet rods, hardware and hooks: $20
Wallpaper: $90
Paint: Free (All leftover from other projects)
Chandelier: $60
Horse hook: $10
LED strip lighting: $15
Art and frame: Free (Had the frame, made the art.)
The total came to about $400, a quarter of which was the splurgey wallpaper purchase. I'm totally thrilled with that — you'd spend many times that on just the custom closet organizer – on one wall – without any of the fun extras, decorations, chandelier, etc.
This easily tops my laundry room as my most favorite room we've ever done, and if we ever move, I'll probably just rip this whole closet off the studs and stuff it into a moving box. Reasonable? (Just say yes.)
Should we have one more quick look at the befores-and-afters? If you insist.
Left side:

Center:
Right side:
So — closet party! Who's coming? I'll bring the chocolate-covered strawberries! And the poetry!