You know a DIY project has spiraled out of control when you find yourself in your half-finished closet wearing an '90s-style velvet Minnie Mouse dress and ankle socks.


What happened?! How did my life come to this – shoulder pads and a Minnie Mouse applique?!


Like all the important downward-spiral milestones of our lives, this story began in the closet. With our DIY drawers. (See how we built them here.)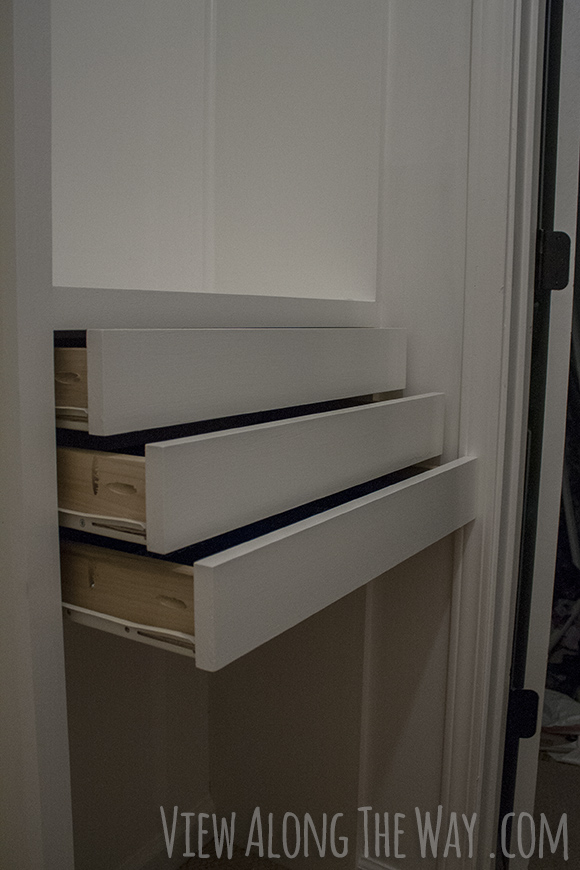 These drawers will be used for jewelry storage, and I thought it'd be fun to line the bottoms with velvet, to keep the jewelry from sliding around and to just make things feel a little fancier. So I skipped right over to Joann to buy a yard of velvet, but then I saw the price: $27.99 per yard.
I was all: uhhh, NOPE. Did an about-face and left the store.
Then started brainstorming, and suddenly I remembered: oh YES, the '90s! Pretty much the '90s are the answer to most problems, and that was the case for me. Velvet dresses were in abundance, and I thought if I could just get my paws on a '90s velvet dress, I'd be able to reuse the fabric to make my lined drawers.
I found my Minnie Mouse beauty at the thrift store for only $1.75! Score! There were probably about five different velvet dresses that day that would've worked, but I just grabbed the one that had the most fabric (and the most Mouse). I washed it in the hottest of water, and then, before I knew what was happening, I was wearing it, and there were photos, and nothing could be stopped.
Fortunately, at some point I became sane again and actually made some velvet lining for our drawers that turned out pretty dang awesome. I'm thrilled with it, and it only cost me about $11!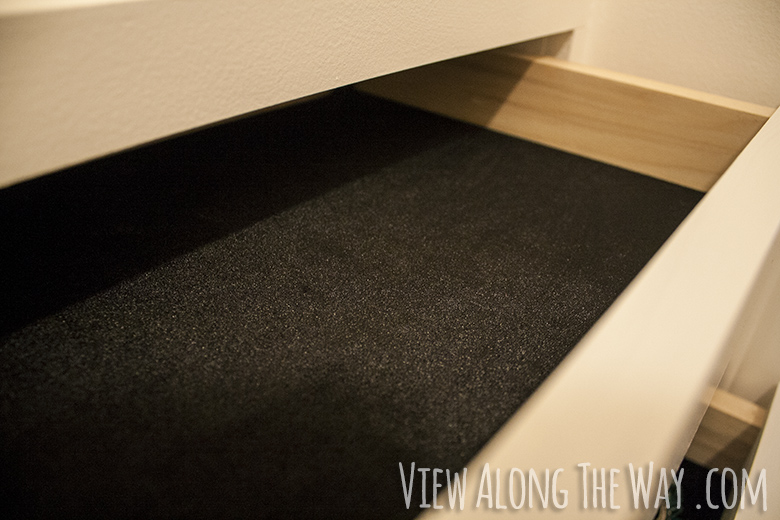 Materials needed
The most glorious velvet dress your local thrift store offers (bonus points for disney appliques and shoulder pads)
Spray adhesive (I used this kind because I already had some on hand)
A sheet of hardboard or cardboard (more on this in a sec)
1. Cut down your hardboard (or cardboard) to size
The first thing we did was run to Lowes and grab a sheet of hardboard. It's an 8×4-foot thin, flat sheet that costs $8.98 at my Lowes. We had them cut it to size right there in the store (it's free!).


You can also use cardboard for this, but I opted to spend a little more on hardboard because it will never crease, it's perfectly flat, and it'll be nicer in the long-term. If you have some nice large pieces of cardboard to use, you can get this project done pretty much for the cost of your velvet.
We had the hardboard cut to about 1/4″ smaller on each side than the insides of the drawers. (The insides of the drawers are 12 inches x 24 inches, so the hardboard is 11.75 x 23.75.)
2. Upholster in velvet
Cut your velvet pieces to a couple inches longer than your hardboard.


Then spray one side of your hardboard piece with spray adhesive.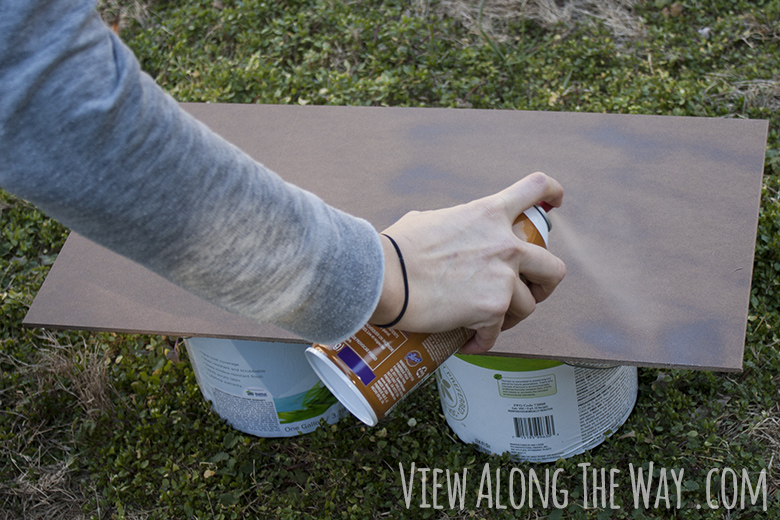 Give it a minute to get tacky, then caaaaarefully lay your velvet piece on top, trying to avoid any wrinkles. (This works best with two people.)

First person to judge our weed situation gets to come help with yard work!
Smooth out any wrinkles with your manly man-hands…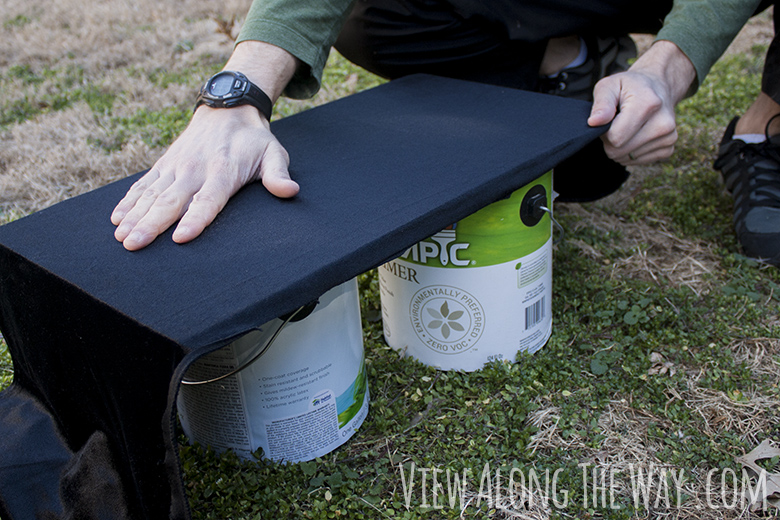 Then flip it over, spray the outside and fold down the extra velvet.
I really didn't worry too much about getting the corners good or laying flat on the back. I just cut off any extra pieces on the back and left it kinda rough-looking. I found the velvet to be very forgiving, and this part of the project was pretty tough to mess up.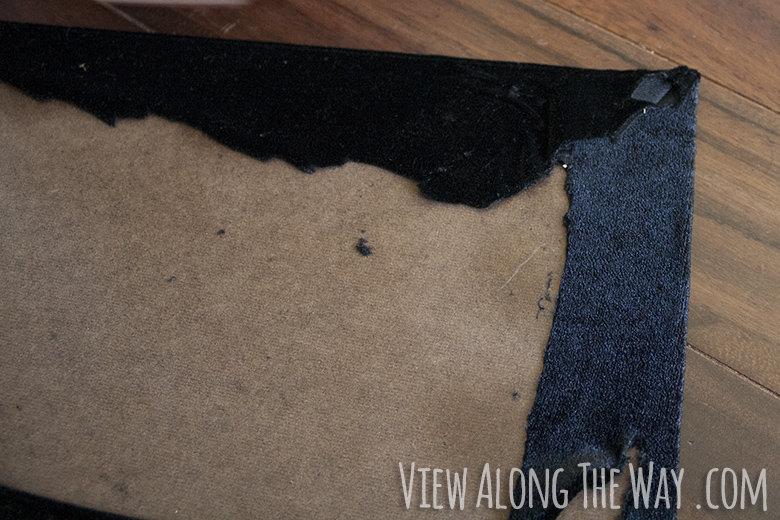 3. Pop 'em in place!
Just set your hardboard inside the drawers and you're all done!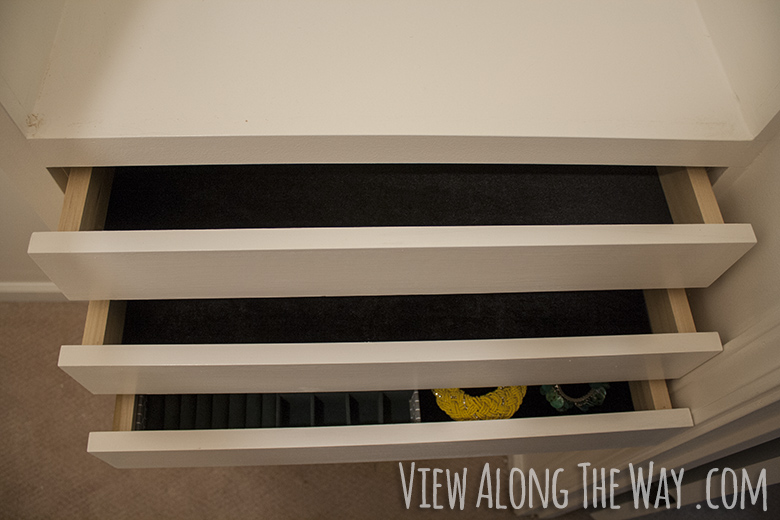 If you wanted your liners to feel a little cushier, you could add a layer of batting underneath the velvet, but I didn't want to create too much of a mounded-pillow-effect, so I skipped the batting.
I haven't officially moved my jewelry in here yet – I'm trying (SO HARD) to wait until the whole closet is done – but I put a few pieces in just to take these pics. I found that ring holder thing at Ross for $4 and couldn't pass it up.


This whole project took me maaaaybe 20 minutes, tops. It was super speedy, and it was so easy that I'm tempted to line my dresser drawers too. Just makes things feel so fancy! And to think it all started with a thrift store Minnie Mouse dress!
Should we take a moment to mourn the dress that paid the ultimate sacrifice in the making of these drawer liners?


RIP, winter-Minnie-and-your-snowflakes. You served us well.

Ever used thrift store fabric for something different than it was intended? Ever find yourself in a closet in a poorly fitting dress and ankle socks? I can't be alone in this.