"How can I get my very own Andy?"
That's the question I probably get the most often. I'm trying to figure out a way to clone, bottle and share him, but in the meantime I can only apologize for snatching him up unfairly and share a bunch of awkward photos of him to help you know he has a disproportionate amount Unstoppable Weird Genes to balance his talent and skill.


The second question I get asked most often lately has been about where to shop for fabric online, how to dig through all the pages and find the good stuff, and how to know where to start.
Word. Online fabric shopping can be super overwhelming. It's like trying to find a… needle fabric in a… uh, nevermind.
If you're designing a room from scratch and you're doing it the easy way (following this easy little formula to a beautiful room), you know that finding a beautiful lead fabric will make this whole process so much easier and give you a solid direction. So how do you narrow it down and find one you'll love?
This is my process… (And I'm hoping you'll share your own tips and process in the comments!)
1. Hit Pinterest
Whether I'm hunting for a lead fabric or just looking for inspiration, I always, always start with my Pinterest Fabric board:

Follow Kelly at View Along the Way's board Fabric on Pinterest.
As I find inspiring fabrics, I save them to that board. I know my pinterest board includes stuff I'm already digging, so I consult it first. Often just starting there helps me save time wading through all the online fabric stores. If you don't have a fabric board on pinterest, get on it! Get pinnin'! (Or
just use mine.
I'll share.)
2. Get inspired
If I didn't find what I was looking for there, I'll hit the high-end designer fabric stores online next. That way you hone your eye to know what looks expensive and what will last beyond the short-term trends. You're basically equipping yourself to go find epic inexpensive fabrics because you'll know what looks high-end for a lower price.
Best higher-end fabric stores:
3. Get down to business
And now I begin scouring! The fabric stores with HUGE selections can be totally overwhelming and it's hard to know where to start!
I usually start with these:
To hone things down a little bit and make it manageable, I click on "Home Decor fabrics" and bring up a few of my favorite designers, like these:
Then I might browse a few of the online shops that have more curated designs. They're a little less overwhelming, have a smaller selection, and most of the fabrics are cute, so there's no sorting through Piles of Uglies.
If I've found something I'm diggin'…
I usually order samples to make sure I love it in real life. I buy several samples at once so I can compare, touch them, get a better sense of the scale and colors and find out if I think they're just as awesome in person. Anyone who's ever done internet dating is probably nodding in understanding right now.
I usually have situations like this happening all over my house with fabric samples: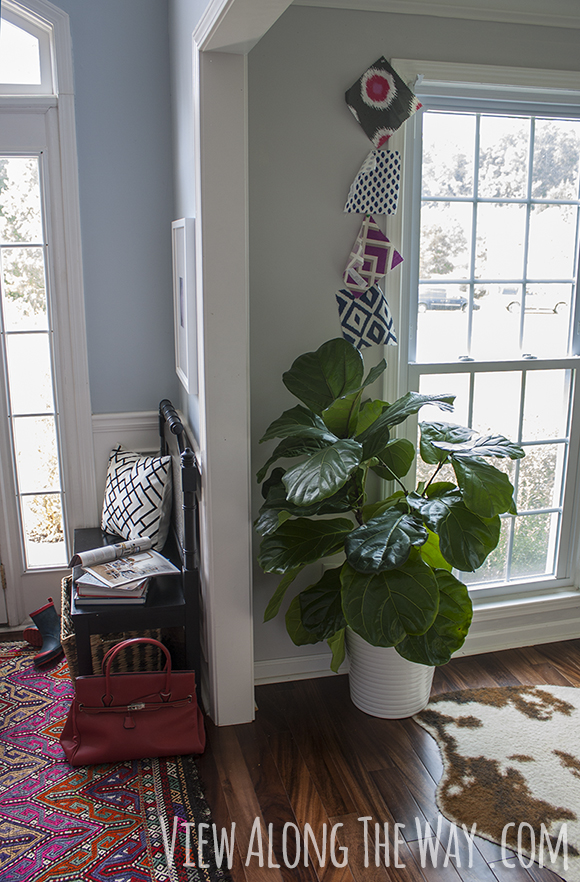 And hey, if you end up with a ton of fabric samples, use the leftovers for this little decorating hack!
When I'm ready to pull the trigger…
I shop around like a ninja! (Here's my post on how I shop online to get the best deals.)
Once I have the designer and pattern name of the fabric I want, I quickly check ebay and etsy to see if there are any better deals, then go back to the fabric stores.
Fabric.com has free shipping if you spend $35 and free return shipping. I always google "fabric.com coupon codes" before I buy, and often you can find some coupons to knock off another 15% or so. What I really love about fabric.com is that they have free return shipping, so you can just buy whatever fabric you think you'll like, and if you don't end up liking it, you can return it at no cost to you.
Fabric Guru usually has good prices, but it's hard to browse, so I usually only go here after I know what I want.
Online Fabric Store has free shipping if you spend $50, and you can often find coupons online for about another 10% off or so.
If I just can't find something I'm in love with…
There's always Spoonflower. You can design your own fabric, or browse fabrics designed by other people. There are some seriously gorgeous selections, and it's worth checking out.
These are two of my favorite Spoonflower shops:

…or get creative.
Thrift stores can be a treasure trove of unique, vintage designs. Buy sheets, comforters or blankets and repurpose the fabric for your own devilish schemes. We already know Minnie Mouse velvet dresses make awesome drawer liners, and also make any woman look her best! (PSHHHHH MMM HMMM.)
Here's my complete list, in no particular order.

What online fabric stores did I miss? How do you find fabrics you love?