There was a time in his life when my husband would've balked at the idea of a crystal chandelier in a closet.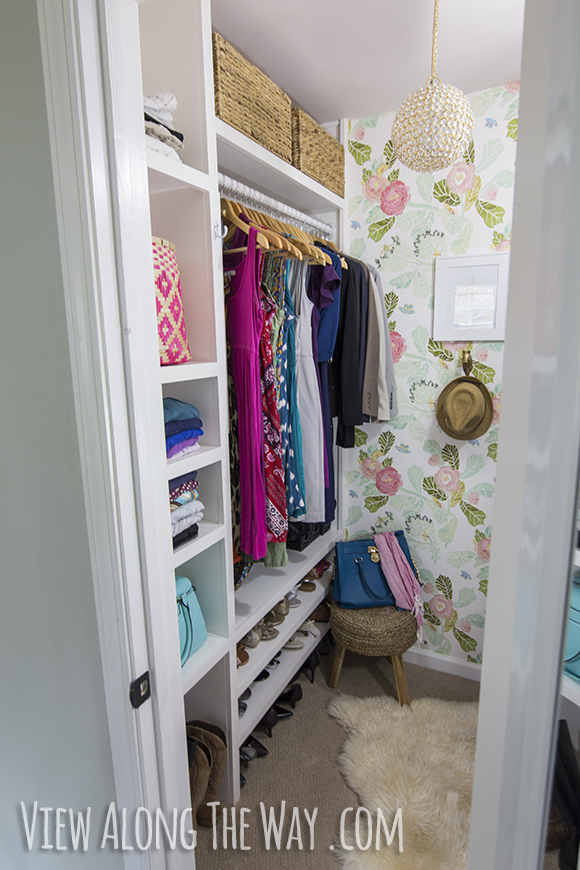 He would've said that it doesn't make any sense — chandeliers are for
dining rooms!
— and why don't you just use one of those nice boob lights?
(He wouldn't have known the term "boob light" at that time either, but if he had, he would've happily enjoyed any occasion to use it.)
I consider it a great and mighty achievement that, almost nine years into marriage, he didn't even blink when I told him I wanted a fancy chandelier in my closet makeover. His only response was, "Okay, want to try to make one?"
BAM. Brainwashing mission complete.
After one chandelier attempt fail, we emerged victorious with this guy:

It all started when I found
these crystal ball chandeliers at Horchow
.
I liked them, but I wanted something a little more gold and a little less
FIFTEEN HUNDRED DOLLARS
.
This Marmont Pendant from Serena and Lily was much closer, but I still wanted a little more bling, and there was just no way a $275 closet light fixture was happening in this house.


My little chandy came out to a measly little $60, and is full-on BLINGIN' CRYSTAL.
I thought and thought for a long time about how we could make a crystal ball like that. How would you string crystals through metal like that without knowing anything about welding? My conclusion:
uhhhh, beats me
.
Remember my DIY capiz shell chandelier? It's made from a capiz shell tea light holder which we rigged up to the ceiling. (See how here.)


So I went off hunting for another tea light holder that looked like the crystal balls and found these guys:


YESSSS!! I loved them, so I ordered one sight-unseen, with fingers tightly crossed that it would work out. Not-exactly-a-spoiler-alert: it did.

Materials Needed
Hanging gold & crystal ball (Any size will work; mine is 8 inches.)
Ceiling canopy kit
Lamp cord (You buy it by the foot at the home improvement store. It's very cheap.)
Bulb socket like this one (affiliate link)
Step 1: Wire the socket
Follow the directions on whatever socket you bought. This is how we did ours. Thread your lamp cord through the top of the socket, then split the end of the cord with a wire stripper. Wrap one wire around one of the silver screws and the other wire around the gold screw, then tighten the screws down with a screwdriver.


It should look like this when you're done:

Step 2: Add the bulb
These little crystal balls have a tiny door in the side that opens, resembling a tiny super-glam liberace version of a death star.


It's very convenient for adding the bulb. You just open that little door, thread the end of the lamp cord through the top of the ball by the handle, and pull it taut, then add your bulb.


AAAAAAND you just wired a chandelier. Just like that.
Step 3: Hang it
Before we did this step, we spray-painted the previously-white ceiling canopy with gold spray paint. Thread the lamp cord through the hole in the center of the canopy, and hook the gold chain (included with the crystal ball) onto the canopy as well.


Then you wire it up just like any other light fixture and screw the canopy onto the ceiling. (I'm being purposely vague and not saying specifically how to wire a light into your house's electrical system because if you're not already comfortable hanging light fixtures, you should probably just hire an electrician. Electricity kills people, and I'd like you to stick around. I think we have a good thing going.)
Ta-da!

I extra-love the light it blings everywhere. My closet is so well-lit and I pretty much don't leave it except by force.
But the real miracle here is that Andy believes crystal chandeliers in the closet are a good and normal thing. *Victorious fist-pump!*

Have you ever made a chandelier? Did you think I hand-wired all those little crystals myself? Ain't nobody got time, yo.
P.S.: Check out all our other DIY light fixtures right here!