I'm sorry for taking so long to share the tutorial of how we built the custom shelves in my closet!

The honest truth is that when we were building these, I thought intensive construction tutorials would just not be your thang, so I didn't take awesome photos at the time. But I obviously have no idea what I'm talking about, because you guys have been emailing me and asking for more details. First it was like "I can't wait to see the post about how you built the shelves!" Then it was, "You ARE going to post about the shelves… right? Did I miss that post?" And now hope has been waning and the emails have become hopeless and sad, like "I just… thought… there'd be a shelf post…"
I can't take another day of you not getting your dream closet, guys. I can't have that on my conscience. I just want you to get to wake up every morning, sigh wistfully and smile happily while you pick out your clothes.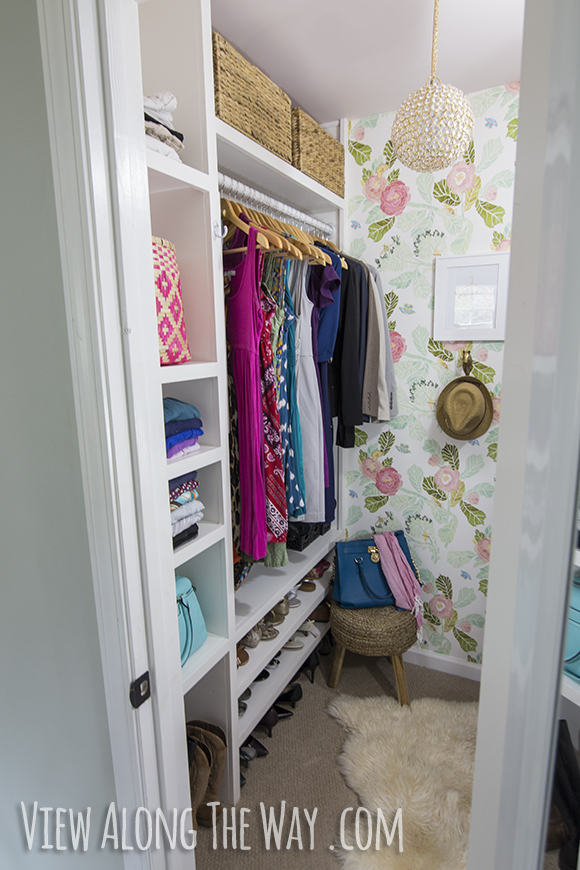 Especially when you can do all those shelves for only about $120 or so.
My closet is about 5 feet by 5.5 feet, and the ceilings are 8 feet tall. Obviously all these measurements and dimensions will be different for you based on the size of your closet and how you configure the shelves.

Materials you'll need
2 sheets of MDF
7 eight-foot pieces of poplar for the shelf fronts (optional)
Shoe molding (aka quarter-round molding) — amount depends on your closet layout and size.
Step 1 (The Fun Part): Design your layout
You can see more about how I designed the shelf configuration in this post, but here's the big lesson to remember: there is no right answer. I'll give you a few guidelines that helped me, but ultimately you get to decide what's the best way to design the shelves for your stuff.
I drew my layout on paper and just lived with the idea for a couple weeks, shifting things around as I had new ideas and thought about other ways I might use the space:


My shelves are all 12 inches deep, but that's only because I didn't have much space to make them deeper. If I could've gone with 14 inches, I think that would've been a little better.


Otherwise, we just made up all the shelf dimensions ourselves. There are no hard and fast rules. Not like the five-second rule, which is basically natural law, and upon which you can base all your beliefs and life choices.


This is where we landed on the left wall:


And this is the right:


Here's what's so magical about doing this yourself: if you don't want the mirror situation and you have four million purses, just erase that section and add more purse storage. If you don't need as many shelves, get rid of 'em and have more hangy space. No rules. Except the five-second rule.
Step 2: Cut your MDF pieces
We like MDF instead of plywood because it's never warped, it's cheaper than plywood, and it looks just as good (sometimes better) when it's painted. We've never had any problems with it sagging or looking worse over time.
The first thing to do is cut the vertical pieces. My shelves are 12 inches deep and the ceiling is 8 feet tall, so these pieces are 12 inches by 8 feet. I didn't take a ton of pictures of this step (Bad blogger! Six demerits!) but these are the pieces I'm talking about:


We needed six pieces like that — three for each side. (One vertical piece goes against each wall and one vertical piece in the center, for each side of the closet.)
There are a lot of ways to add the horizontal shelves, but the way we did it was to rout out a section on all the vertical pieces so we could slide the shelves in. See what I mean here?


And here it is with the shelves slid in those slots:


Go ahead and rout out those slots before you install the vertical pieces.
If you don't know how to use a router, you can screw in a board under the shelves and rest them on top of that board. That's what we did for the shelves in the laundry room. See how the shelves are resting on a small board that's screwed into the wall?


That's just another option if you're not into the idea of using a router. But you should totally get a router. They rock.
Step 3: Install the vertical pieces
If your closet has any baseboard or crown molding, you'll need to cut it out of the sections of wall where the vertical pieces will go first. (We use and love this multitool for little jobs like this.) *affiliate link


Then just stand the vertical pieces up in the room and slide them into place. (I say "just," but keepin' it real — it took both of us to stand these up in the room and maneuver these into place because they were such a tight fit in the room.) Screw the side pieces into the wall. The middle piece will be held into place by the shelves when you add them.
Step 4: Cut and install the horizontal shelves
If you routed out a slot, you'll need to add the depth of the slot on both sides to the width of every shelf. Then just cut them to the same depth as the vertical pieces, slide them into the slots and screw them in.
Step 5: (Optional) Add the poplar fronts
I'm a girl who will forever be devoted to the look of thick, chunky shelves. I'll never stop loving them all of my days. So we added some 1×2-inch poplar boards to the front to fake that chunkiness.


If you don't care about that, you can totally skip it. The extra materials cost us about $35, which I think is a fantastic investment.
To install these, we just cut them to length and nailed them right onto the MDF with finishing nails. It's okay if it's not perfect; you'll caulk it and paint it all in the end anyway, and no one will know about the imperfections. Except me. And I pinky swear I won't tell a soul.
Step 6: Install the shoe molding
Here's the sitch: my closet walls are warped and crazy. When we installed the vertical pieces and the shelves, there were all kinds of cracks between the shelving and the back walls.


To solve that problem, we installed some shoe molding (quarter-round) all along the inside. It just makes things look a little more finished, but it's optional if you're happy with the way your shelves fit in at this point. Installing quarter-round is super simple. Just cut it to length and nail it in with finishing nails.

Step 7: Caulk and fill the nail holes
Go ahead and block off your calendar for the next six months and don't plan to emerge from your closet until you're so sick of caulking and nail-hole-filling that you want to gauge out your eyeballs.
That's just real life, guys. That's a real step you have to take if you want to do this.
Here's what it looked like after it was caulked and the nail holes filled:

Step 8: Prime and paint
Hopefully this step will go smoother for you than it did for me.
But when it's done? CELEBRATION!

Step 9: Trick it out!
Now you can add some slide out organizers for scarves for belts…


…or DIY drawers (tutorial here) for your jewels:


Or you can add under-shelf lighting. (Tutorial on this coming!)


Or, like diamonds or whatever.

You can see all the posts on the
closet projects right here.
Anyone ever built a shelving system? What will it take to erase the demerits I earned from the delay in posting this? I can handle whatever it is, just be honest.