I must speak out for the books.
Someone is hiding them from us! All those volumes mankind has been printing for the past hundreds of years since the invention of the printing press — oh yes I did just bring up the invention of the printing press and no I don't know when that was without googling it — all the books are disappearing, you guys. It's an emergency.
All the styled bookshelves are devoid of books! Bookshelves are shelves… for books. I thought?
But if you go hunting for beautifully styled shelves on pinterest, you'll start to think that in order to create beautiful bookshelves, you must first rid yourself of all those pesky books and replace them with Pretty Things That Need Dusting.

Design by Meyer Interiors
But um. If all our bookshelves are getting cleared of the books and replaced with beautiful tchotchkes, where are we supposed to put…
our books
?
Elle Decor Magazine
Just asking.
"No worries," says Pinterest. "You can display your books! …As long as they're all within your color scheme."

Lonny Mag
"Oh, your book spines are not all within the same color palette?," Pinterest asks, clucking its tongue disapprovingly. "In that case, you may painstakingly recover them all in craft paper. This is your last and final hope for getting permission to store your books out in the open
where people might see
."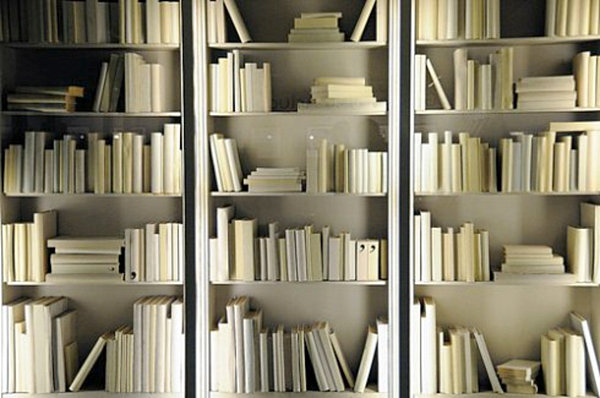 Decoist
"Yes, you'll want to claw out your eyeballs if you ever need to find one of the books in order to read it, but that's the price of beauty, dahhhling."
Pinterest sounds like kind of a jerk right now. I didn't mean to do that. I heart you pinterest, you beautiful, gentle lover.
But for real: what if you need to store books on your bookshelves? Like, what if you own a lot of books and need somewhere to put them? Must you give up on form, surrender to function and replace all your furniture with black pleather overstuffed sofas because Lord Knows, those things must be SO comfortable and easy to keep clean?
I vote no.
To the pleather, and to the Disappearing of the Books.
So what do you do if you own seventy four hundred books, like Jill and her husband do?


If you've been following along, I just did a surprise makeover for my friend Jill while she was on vacation. You can check out all the posts on her makeover here and the full reveal here.
Jill's family uses this living room for reading and for entertaining, so the idea of getting rid of all their books in exchange for Pretty Things just seemed like it'd be a silly lack of priorities for their real life. Erin and I painted and restyled their shelves, keeping almost ALL the same books, but in a way that feels a little easier on your eyes and more organized:


It feels cleaner and simpler, but without sacrificing the actual storage of the books. (We had a small stack of books left over, but almost all of them made it back on the finished shelves.)
This is my little process for creating bookshelves that store books but still feel pretty and clean. It's the same process I used for the bookshelves in our office, which store many, many actual books made of actual paper:

1. Empty the shelves
Of everything. This is a pain, but completely necessary to get a fresh slate and allow yourself to see things a different way than How They've Always Been.

2. Call forth the tchotckes!
Collect All The Pretty Things in your house that you might want to display. This is the time to pull out everything you've been storing with hopes of displaying it someday: your grandmother's cool vintage teacup collection, smallish frames with meaningful photos, mementos from your wedding day, spare vases in closets, pretty ornaments, colorful jars, anything that you'd love to look at. It's all fair game at this point! Make a giant pile that inspires your spouse to think you might have lost it.
Erin and I shopped Jill's house for anything that might look pretty tucked inside the bookshelves, and grabbed a few things on clearance at target or from our own piles of yard sale accessories. This is a small portion of our pile.


We found some beautiful things hidden in cupboards, like this beautiful silver tea set which deserved more appreciation!


When I was doing the bookshelves in my house, all my animals came out to play, which inspired Andy to call out: "WHY IS THERE A ZOO IN OUR OFFICE?!"

3. Sort the books by color
We laid out the books in a rough gradient by color, like this:


It doesn't have to be perfect, but just try to roughly group together all the reddish books, all the bluish books, etc.
4. Add small groups of books to the shelves
I like to work in "batches" of books, so I grabbed about 8-10 books from the pile and moved them to the shelves. Here's a little batch of bluish books:


These are all the little batches from my own bookshelf wall: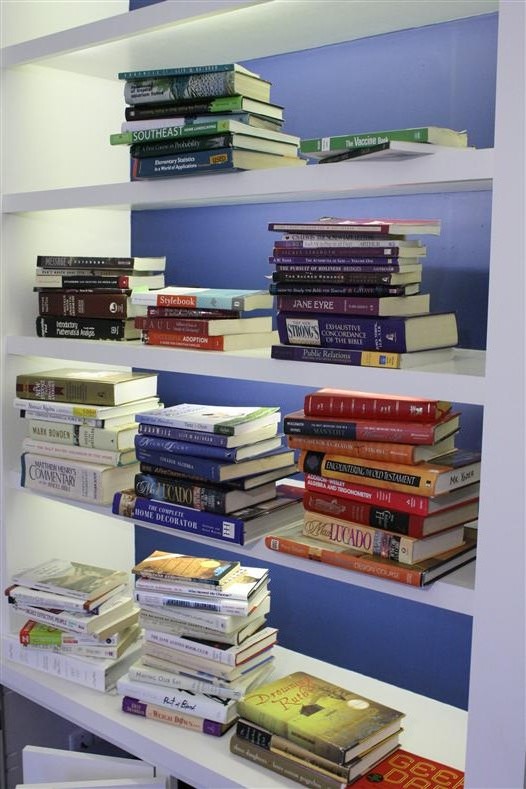 If I did a batch of books standing up against the side of the shelf on one side, I grabbed another batch and did something similar on the opposite side, basically creating "pairs" of batches to keep things roughly balanced:

5. Change it up
If one batch of books is standing up, grab another batch – a batch of any color! – and set it on its side. Alternate the way the books are stacked every time:


**In my opinion, this is the single easiest thing you can do to take your bookshelves to the next level. Just go through and change the way some of them are oriented. It'll make a world of difference without changing how many books you can fit!**
6. When all the books are shelved, bring on the pretties!
Start slowly layering in your pretty things now. Put some on top of the book stacks. Put some peeking out from behind the books and prop some in front of the books. The trick is to make it feel like there are layers of interest, not just a line of books that are all the same depth.


For extra credit, you can even hang things on the fronts of the shelves.

Elle Decor
7. Tweak until it feels right
Now just start playing until it feels good and balanced to you. This is weird, but sometimes it helps me to squint so everything looks blurry, then see what stands out. If it feels like there's a lot of pattern and contrast on one half of a shelf, I'll rearrange until it feels more even.
And sometimes I can't "see" what needs to be changed until I take a photo. When you think you're just about there, take a picture of the shelf and see what doesn't look right in the picture. I don't know why it makes a difference, but it helps me every single time.
* * *
Aaaand that's it!


It really all comes down to making it look a way that's visually pleasing to you. A hundred different designers could come in and rearrange your shelves a hundred different ways. There's no right or wrong, so give yourself some freedom and some grace!
And let's all unite to Save the Books! Are you in?