Thanks to my ol' buddy Benjamin Moore for sponsoring this post!
I mean, I just can't understand why every single person doesn't have a blog. It's the best thing in the history of ever. Exhibit A: you guys, with your epic advice and helpful opinions on my last post. You're all my favorites, and you continue to make my little heart flutter with thankfulness. THANK YOU for taking the time to chime in on the paint color for my master bedroom.
In what is probably my fastest turn-around time ever, I already chose a color, got the paint and the room is painted! Awwww yeah. *Brushes off shoulders*
Here again is the before: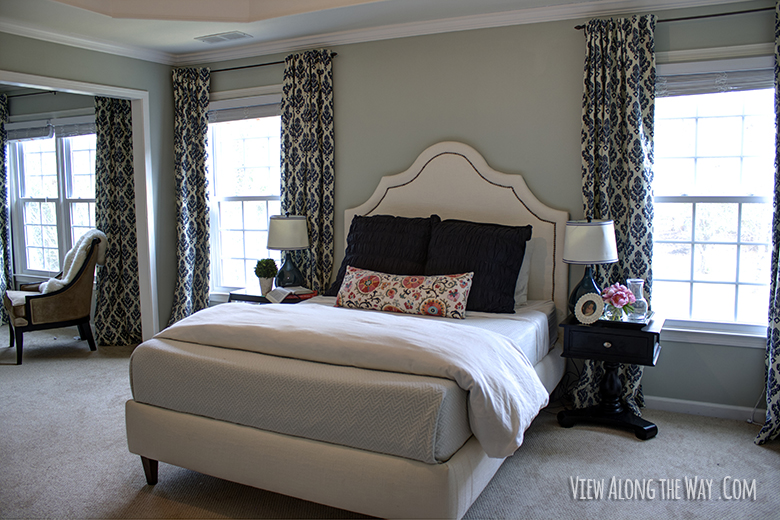 And here's the room when the paint was still drying and we hadn't put everything back together yet:


(I'm skipping over the process of painting because I'm sure you guys get it: move the furniture, roll things, cut in other things, repeat.)
My first reaction was complete and utter devotion to this color for all of my days. I loved it instantly.
Can you guess which color I ended up with?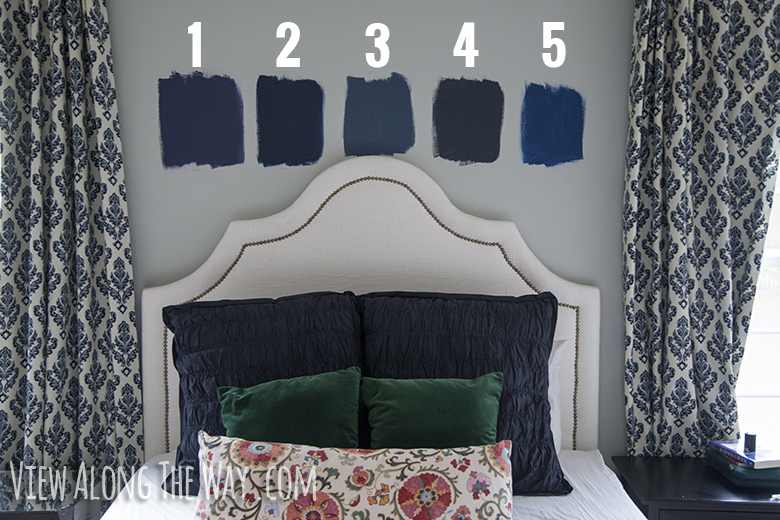 It's #4, Benjamin Moore Hale Navy (HC-154) – the color that I was most drawn to in the last post and the color that you all voted for the most in our little poll:


My major hesitation was a deep-rooted rebellious streak that wanted to not choose the color everyone else is choosing, since Hale Navy has been so popular lately. Nothing is worse than being predictable, right?! (If I were auditioning for a trashy reality show, I'd emphasize this part of my personality during the audition process.)
But dang, yall. It's gorgeous. And sometimes the best one for you is the one that's proven their goodness over time, the safe choice that you know you can count on.


Of course, I also said I didn't want to use Hale Navy because I thought everyone else has already used it, so this analogy breaks down quickly and it's probably best if we don't take it much further. Erm, we should probably get back to the paint.
Here's the thing: I have a 100 percent track record of hating every paint color I use at first. But then it grows on me and I stop hating my life. Or I actually continue to hate it and spend the next five years trying to convince Andy to let me near a paint chip again. But THIS? THIS was love at first sight.
I'm finding that the colors I love most in the end are not the colors I love on the paint chip or on the wall swatch. I have to choose the slightly grayer, slightly desaturated version of the color that looks right to me, and that's how I know I'll like it when all is said and done.


It does not look nearly as fabulous in these photos as it does in real life. Hale Navy (HC-154) is moody, complicated, serious, but you totally want to be its friend.
The paint itself was glorious, you guys. I used Benjamin Moore Aura interior paint in eggshell (although in retrospect I think flat would've been even better) and it went on LIKE BUTTA. So smooth. I thought we'd need three coats, easily, but the first coat covered so well that there was even debate about whether a second was necessary.
I'm sold on the value of the Aura paint. Done. It rocked. I wish I could go back and un-paint my closet so I could use the Aura paint. That project was a nightmare and, looking back, I'm pretty sure I used 46 coats of paint and lost at least 4 years of my life to painting those shelves.
I've been collecting a few things for this room over time, and I'm super excited to get to decoratin', because I love how they play with the navy:


And speaking of decorating, this room is NOWHERE CLOSE TO DONE. But here it is a little more put back together – curtains in place, bed made.


I think the navy is calling for a few tweaks to what I already have. I loved the way the room looked before we hung the curtains, so I'm considering swapping out the curtains for some simple wood blinds, like what I have in my breakfast nook:


Of course, the blackout curtains are incredibly functional in blocking out light so I can eek out a precious few more minutes of sleep at the crack-o-dawn when Weston wakes up. So that remains to be seen.
This is what still needs to be done:


I'm definitely gaga for the way gold and warm wood plays with the navy, so I'll be finding ways to incorporate that. I played around with some accessories I had laying around to see what pink looked like with the lumbar pillow.


Don't think that shade of pink is right. I tried the lamps from the guest room too:


I don't think that's it either, but it's always fun to try things and see how they turn out. I'm still processing the room and deciding where to head next, but taking my cues from these things now, because I'm feelin' the mood happening here.


But the good news is that I'm super duper in love with the paint color. FINALLY. We've been in the house for six years and this is the first time I've loved the color of our bedroom. (Thanks again for weighing in!)
I think the moral of the story here is this: just do what everyone else is doing, succumb to peer pressure every time and you'll always be happy in the end. Right? 😉
This post is sponsored by Benjamin Moore, but all opinions are my own, as always!