Remember back when we made this bench out of a headboard for the entryway?


(I accidentally just typed "remember when I made…" And then I laughed and erased it, because no.)
I showed you my growing collection of fabric swatches I was considering for the office windows, just off the foyer: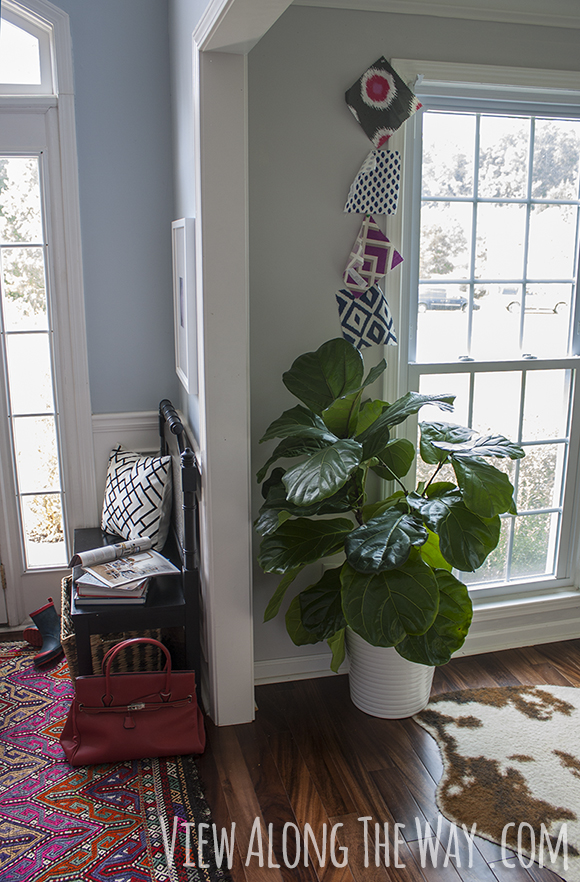 I decided on none of those, because here's what went down.
I'd been watching this fabric at Calico Corners for, seriously, a couple of years, but it was over $40/yard, and I'd end up shelling out many hundreds of dollars for four floor-to-ceiling panels, so I just couldn't pull the trigger.


(They have it at Online Fabric Store for cheaper now, but at the time, it was held hostage at Calico Corners for more than I wanted to spend.)
One day I was doing my daily browsing – it's an addiction – of Joss & Main and I saw this!!


Curtains in that fabric — already made! — for much less than it would cost me to make my own. You don't even know how fast I clicked "order," guys. You couldn't even see it with the naked eye: there was just a "whoosh" sound, and it was done.
Here's the thing: I had been agonizing over whether to do a pattern for these curtains, because the foyer rug is so colorful and busy, and the office rug is a faux cowhide with a little bit of movement in it as well.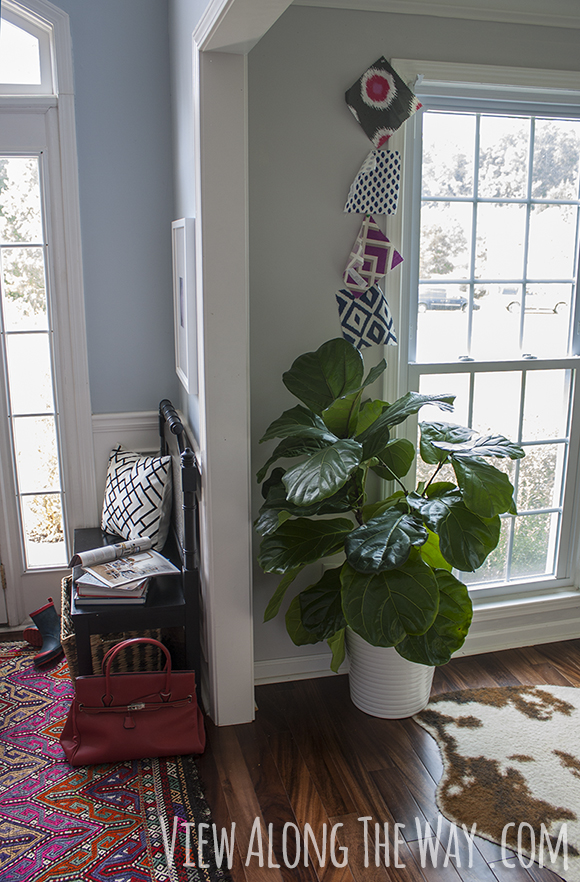 But when I saw those curtains come up for sale, I just snagged them: bought first, thought second.
You know how designers are always saying: "All you have to do is buy what you love and your house will be amazing! It will all come together beautifully!" and other things that make you wonder what's wrong with you?
I kinda just hoped that loving that pattern enough – and for so many years – would be enough. Because love is always enough, right? (Says no one who has been married for any period of time, ever.)


I love it. I don't know if it's "too much pattern" — I don't think so, I think it's fun and happy — but even if you disagree, that's cool. I'm digging the happy, comfortable direction this is headed, although there's still MUCH to do in the office before it's any kind of finished.


That's the chandelier we made from this post, by the way, and the little rescue lamp that we rigged up to be cordless in this post.
And that's green preschooler hand-print art on the back of the door, yes. It's an original.
The art leaning against the wall was a One Kings Lane purchase. I'm still deciding where it'll live. I think it's granny chic; Andy thinks it's granny. I know that, even though I haven't asked him what he thinks. Sometimes, you just know better than to ask.
The fiddle leaf fig isn't shrinking, by the way. I have two now: both actually living. I think I figured out their formula. I might do a post on that soon.


You can't see it from here, but the other side of the office has some more of that turquoise color happening on our little DIY bookshelf wall:


The curtains themselves are the BEST quality. They have hidden tabs (here's how to make curtains with hidden tabs), and are lined and SUPER thick. The color looks amazing in person. I think the pattern looks like giant amoebas eating our wall, which is probably the next trend.


So what do you think: is love enough? Or do you need to do a little analyzing and agonizing over a decision first?
(This post contains affiliate links.)