Are you a planner?
I'd shake my head vehemently NO to that. I am not a planner. I wing it and hope for the best. I jump in with both feet and trust that everything will work out, because doesn't it always? That's what you call unwise optimism, to an absolute, undeniable fault, wrapped in a package of impatience and impulsivity.
I'm working on it, guys. Step one is admitting you have a problem.
Step two is thanking your spouse for ever marrying you, because his patience and wisdom are sometimes the only things keeping me from almost certain self-destruction, or at the very least, from accidentally ruining our bathroom remodel.
Anyway: the bathroom. I've realized that I can't just go buy a bunch of things and hope they'll work out okay in there. I need to make sure the plan is solid before we order up some tile and take a sledgehammer to things. I mean, probably.
The first major hurdle is the configuration of the vanity wall. I thought it would be really simple at first, but with my finger hovered over the "Submit order" button on an online tile purchase, I realized perhaps I should back up and just double-check that the plan in my head would work out?
It ended up being a lot more complicated than I realized. Here's that wall right now:


Looking at it straight-on, this is mostly to scale: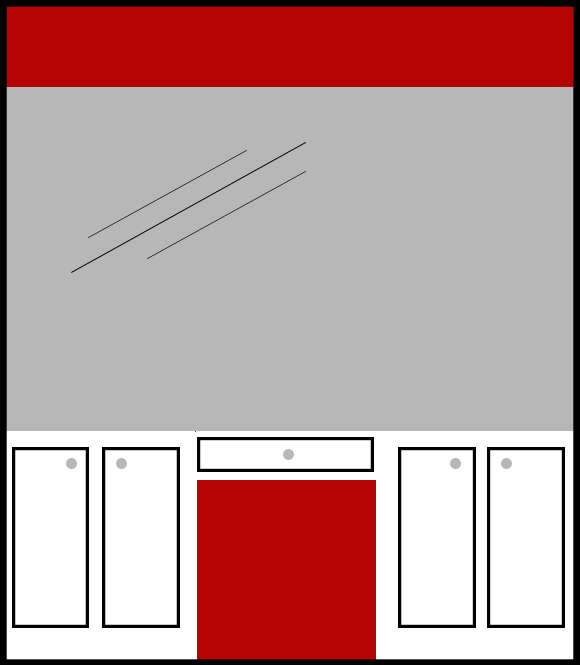 This is also mostly to scale:

(I'm buttering him up for the work ahead. #MaybeI'mAPlannerAfterAll.)
There's a wall-to-wall counter with dual sinks, set atop two cabinets and a completely useless vanity area in between.
Are there people who use those vanity areas anymore? Who has time to perch themselves upon a vanity stool, wrapped up in a cozy robe and probably a feather boa, sipping mimosas, for three hours while they carefully apply their makeup in perfect peace?
(Is that just me being a mom-to-preschoolers talking? On the rare occasions when I apply makeup, I have about 30 seconds to slap it on while little people run around my feet, sometimes grabbing my makeup brushes from the bathroom counter and holding them precariously over the toilet bowl.)
Cabinet option 1
We tossed around the idea of ripping out the entire vanity cabinet area and replacing it with a new piece of furniture, or with a premade vanity from the store. I whipped up some little photoshop renderings to see what that might look like:


(Don't pay much attention to the design or finishes. My plan changes daily and I was just playing around here.)
See all that extra wall space on either side of the vanity? In order to go with a premade vanity, the whole piece would have to be significantly shorter than the entire wall. Right now, our vanity takes up the entire 89-inch nook. But most premade vanities are only about 72 inches long, so we'd lose a good 17 inches of counter space, and the vanity might end up feeling dwarfed on that wall.
That's not the craziest idea, though. Here are a few bathrooms where the vanity is smaller than the width of the wall:

Refined LLC
BHG
We thought long and hard, and almost pulled the trigger on this plan. But ultimately we both agreed we'd regret losing that valuable counter space. What I mean is:
I'd
regret losing that counter space. Andy gets about four inches of counter space for his toothbrush and contacts case, and my makeup-and-beauty-product-explosion takes up the rest.
(If I'm being real, the makeup and beauty products are just going to expand to take up whatever space they're allotted, but that's out of my control.)
Cabinet option 2
Next we considered buying two smaller premade vanities like this:

Design by Sarah Richardson via HGTV
And maybe even finding a way to connect them, like this:
AIADC
House & Home
But that would still either limit our countertop length, or create that same useless vanity area. It just didn't seem like the best call. So we moved on to option 3.
Cabinet option 3
See also: The Thrifty Option
For this option, we'd leave our current cabinets and reconfigure them to be more functional for the way we live our lives. We'd retrofit that empty center area with cabinets or drawers so it would become built-in storage, then fix up the existing doors so it all looks a little fancier/less boring and builder-grade.
So while it looks like this now: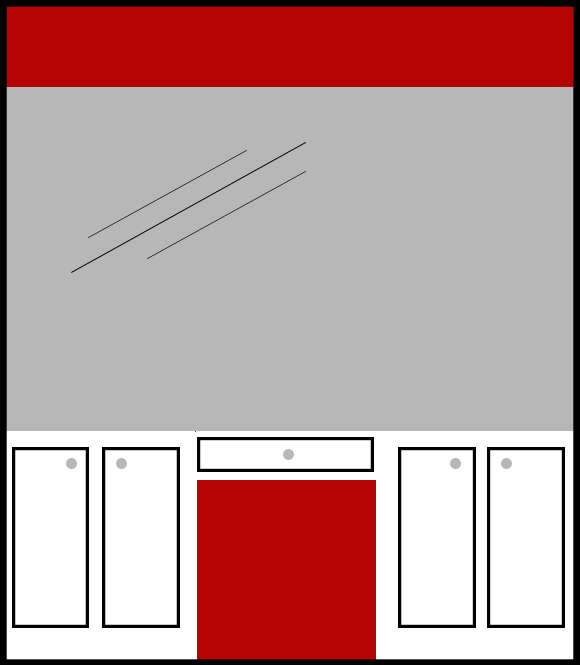 We would change the center area to look more like this:


We'll essentially just be keeping the cabinet boxes, but building out the center and adding drawers, plus replacing the existing cabinet doors with something more custom.
The benefit of this plan is that we already have a beautiful marble countertop that will (we hope) fit perfectly on top of the existing cabinets. I found it at the Habitat Restore, and it was basically the most gigantic miracle of all time: it has two sinks, in exactly the same place as our existing sinks, with faucet holes already drilled, and it's long enough to fit wall-to-wall in that space. AND it was 20% off.
AND we've been storing it our garage in anticipation of this project since 2011.
Andy's has been thrilled to donate a large portion of our garage to this unused countertop for the last three years.
So option 3 it is! But there are a lot of issues this option presents. I'll show you those issues and what I'm thinking in the next post. I'm not quite sure how to fix 'em yet, so more to come!
Good thing I'm planning this out, right? There's something to be said for this whole planning thing. Are you a planner? Do you use your vanity area? Are there mimosas involved?