Guess what: the Safe House bedroom is stick-a-fork-in-it DONE. I'll have the full reveal for you in the next post.
GROANNNNNN. I KNOW. That's so cruel!
Okay fine. Just one tiny sneak peek. You know I can't resist it when you make that face.


We made this crazy chandelier too! I can't wait for you to see! (Sorry.)
If you've been following along, we've been making over a bedroom in a Safe House where victims of sex trafficking will go, straight from the streets, immediately after they're rescued. (See the project unfold here.)
While I was doing this project, I met a friend who is a photographer, who has gone to the streets in the U.S. and around the world where the trafficking is taking place, and photographed what she's found. She's using her photography to bring awareness and change laws, and change lives.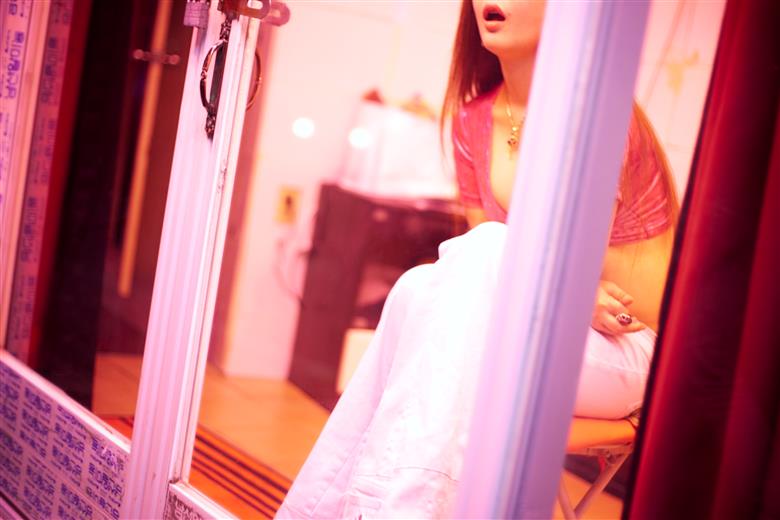 Photographed by Tanya Martineau on assignment for Unseen Ministries. For Unearthed Seoul
These photos are the real thing. These women are real victims.
This is happening in your city
.
Tanya told me a devastating story I can't shake and I don't want to confront. She has gone to Hindu temples where little girls are dedicated as temple prostitutes. People there try to appease a goddess called Yellamma by dedicating their daughters to a lifetime of service as temple prostitutes. "A wealthy man can pay extra for the right to deflower her, and afterward she becomes public property, duty-bound to satisfy the lust of any man who pays."
Tanya told me this was happening – that she has seen it with her own eyes – and then when she sent me the photos of the girls… As young as five years old…


I couldn't understand it. I made her tell me again. Not the girls in the picture, right Tanya? That didn't really happen to these girls?


Tell me it's not really happening, not that way.
It's hard to know. It's hard to grapple with. You want to shut your brain off to it, to go back to the safety of your world and un-know what you've learned.
But now you know, and there are things you can do to help.
1. First, learn and understand.
From Tanya's words (read more on her blog here):
The term "justice" has become a trendy topic. Justice is a restoration of the broken; not an end goal but a response to choose love.

There is no simple solution to poverty or injustice. It's messy. It's complex. It's multifaceted. I don't have the answers, yet I know the first step in bringing lasting solutions is by understanding the problem.

I experienced life in the slums in the Philippines for 4 days with one of my trafficked girls that was reunited with her family. It was challenging. I laughed. I cried. I empathized. I left empowered; not to jump into solutions but to dive into greater understanding to one day bring holistic freedom. Most of all, I left honored to get a brief glimpse into the lives of their joyous community.

I wonder if more justice and love would be spread if we focused more of our attention on understanding than quick solutions?
Phew. First, take responsibility to know, even when it hurts to know and you'd rather go back.

Photographed by Tanya Martineau on assignment for Unseen Ministries. For Sarah's Home
2. Use YOUR gifts
What is your gift? Your talent?
Are you an epic couponer? Collect items for a local safe house, or donate them to a trafficking ministry near you.
Are you a teacher? Educate your students. Spread the word and encourage them to get involved.
Are you a paper-pusher at a desk job? Give your co-workers resources on how to spot trafficking in airports and hotels.
Are you a stay-at-home-mom? Invite some friends to do a clothing swap to raise money for a local ministry. Spread the word through your church and get your friends involved.
Are you a social media maven? Invite your friends to action through Facebook or twitter.
Are you a grammar geek? Donate your time to a local ministry to help victims write resumes to start a new life.
Decorate a room. Design a website. Take photos. Bake cookies. Spread the word. Find your gifts and use them. Reach out to your local trafficking ministry and ask them what they need.

Photographed by Tanya Martineau on assignment for Unseen Ministries. For Sarah's Home
3. Donate things
If you're local to Atlanta: Out of Darkness, the ministry I partnered with for this project, can use your donations! They create laundry basket gift-baskets for each girl, with all the necessities a woman might need right off the streets. Click here to view their needs list, then get in touch with Out of Darkness to make your donation.

Photographed by Tanya Martineau on assignment for Unseen Ministries. For Sarah's Home
4. Give
Guys, I have this crazy idea. What if every single person reading this post gave $10 to a ministry like Out of Darkness?
I'm not asking for a huge amount: just $10. Can you do that? You can make a check out to "Atlanta Dream Center, Inc." with "Out of Darkness" written in the memo line, and mail it to Out of Darkness, P.O. Box 54537, Atlanta, GA 30308 — or donate online here.
It doesn't have to be Out of Darkness – find your local ministry and donate there. Just ten measly dollars.
5. Pray
…And keep praying. For the victims, for the perpetrators, for the culture that doesn't see the worth of people, that objectifies and is blind to value of human life. For change, for action, for freedom. Put this on your prayer list and don't take it off.
* * *
Photographed by Tanya Martineau on assignment for Unseen Ministries. For Grace Care
It hurts to know – I get it. I feel that too. Don't go back; don't forget.
Find your gifts and use them.